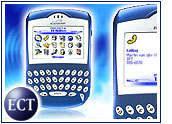 In an effort to provide businesspeople with an affordable, all-in-one mobile device, T-Mobile USA and Research In Motion have introduced the triband BlackBerry 7230 wireless handheld.
For many business travelers, the ability to use the same device for wireless voice and e-mail connectivity while traveling globally would be a big step forward. The BlackBerry 7230's GSM/GPRS triband functionality — coupled with T-Mobile's international presence — offers seamless wireless coverage, so users can make and receive phone calls in more than 100 countries worldwide, with e-mail and Web roaming already supported in many European countries. Specifically, it can run on 900-, 1,800- and 1,900-MHz GPRS and GSM networks, enabling customers to make calls on all the major networks around the world.
"I think it's perfect for the traveling CMO, marketing VP [or] CEO that isinvolved closely with any branding, marketing or sales strategies wherequick approval cycles are critical," AMR Research analyst Louis Columbus told TechNewsWorld. "The BlackBerry has established itself as a very necessary part of the global productivity landscape."
Form Factor Future
The BlackBerry 7230, expanding on T-Mobile's lineup of BlackBerry handhelds, is designed for consumers, small businesses and corporations. It supports corporate and standard ISP e-mail accounts.
"It's the newest product in a growing line of converged devices," IDC mobile devices analyst Alex Slawsby told TechNewsWorld. "RIM continues to have a cult-like following. This device will help keep the BlackBerry line competiive."
The device's design is sleek and lightweight, and it delivers better battery performance than earlier versions — even while adding support for color and triband features.
"They're really trying to improve the form factor to attract new users," said Slawsby.
Likewise, industry analyst Rob Enderle said, "The market is actually warming to this kind of device now that the power disadvantages have been somewhat mitigated and the usability issues have been better addressed.
"It still isn't the preferred form factor because of issues related to coverage — the GSM networks still have big holes in them in the U.S. — but we can clearly look forward to a time when most of us will likely carry descendents of this product," he told TechNewsWorld.
E-Mail Push
With always-on, push-based access to existing e-mail accounts, a built-in phone and integrated support for messaging, Internet browser and organizer applications, network connectivity is a must for users of the new BlackBerry. T-Mobile customers who buy the BlackBerry 7230 — priced at US$399.99 — can add unlimited e-mail and mobile content for $29.99 per month, making wireless e-mail relatively inexpensive.
The BlackBerry 7230 also incorporates features designed to let users manage their e-mail accounts — including attachments — remotely. In fact, T-Mobile customers can wirelessly access up to 10 corporate or personal e-mail accounts on the device. And the BlackBerry's push architecture means e-mail is automatically delivered to the handheld, with no effort required on the user's part.
In addition, the device's triband phone supports such features as call waiting, conference calling and call forwarding. The BlackBerry 7230 can be held to the ear like a standard phone or used with a hands-free headset, allowing users to type notes or access information while speaking.
Integrated Features
In terms of text messaging, BlackBerry 7230 users can exchange short text messages with other SMS-enabled wireless devices. The full keypad on the BlackBerry 7230 is designed to make it easier for users to type messages and send e-mail than the numeric keypad found on most phones.
The new BlackBerry is also equipped with calendar, address book, memo pad and task list applications that can be synchronized with desktop PCs.
Software-integration features are a strength of this device. For example, users can click on an e-mail address, telephone number or URL inside an e-mail message to compose a new message to the selected recipient, call the phone number or connect to the URL.
The device also is capable of running Java 2 Micro Edition applications. As a result, the modular J2ME development environment opens the handheld to a large developer community that produces wireless applications.
Legal Troubles
Early last week, the District Court for the Eastern District of Virginia ordered RIM to pay $53.7 million in costs and damages to NTP, a private U.S. patent company. In addition, the court barred the sale of RIM's BlackBerry line of mobile wireless organizers and software within the United States.
The injunction was immediately stayed pending an appeal to the Federal Circuit Court of Appeals in Washington, D.C. The legal battle, expected to continue for at least two more years, has had little effect on either RIM's stock price or adoption of its BlackBerry devices. "The reason the market is shrugging off the legal problem is that it does neither litigant any good if RIM goes out of business," said Enderle.
He pointed out that NTP, the company that won the action against RIM, is a technology shop that does not have any capacity to sell products. "They simply want a percentage of what RIM takes in," he said. "And if RIM goes under, they lose as well."
Ultimately, Enderle pointed out, the litigation does cast a cloud over those who might want to purchase this device.