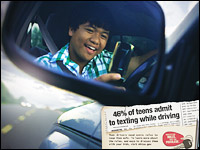 Despite laws, safe-driving campaigns and even gory public service announcements, an overwhelming number of teens are still texting while driving, according to a new report from the Pew Internet & American Life Project, "Teens and Distracted Driving."
Driving while distracted — often due to texting while driving — has been identified as an automobile accident causal factor that's on par with driving while intoxicated. A number of states have already passed laws specifically prohibiting texting while driving.
Teens are by no means the only culprits; adults are also guilty of the practice — and, in fact, are guilty of modeling this behavior for their children, Amanda Lenhart, a senior research specialist at Pew and co-author of the report, told TechNewsWorld.
Still, the highest incidence of distracted driving occurs in the under-20 age group — and in alarming numbers, the researchers found.
Based on the findings,
66 percent of all U.S. 12-to-17 year olds who own cellphones use them to send or receive text messages;
One in three 16-to-17 year olds have texted while driving — or 26 percent of all Americans in that age group;
More than half of all cellphone-owning teens — 52 percent — have talked on a cellphone while driving — or 43 percent of all Americans aged 16 to 17; and
40 percent of teens have been in a car when the driver used a cellphone in a way that put themselves or others in danger.
Behind the Numbers
This is not to say that there aren't responsible teens who look askance as texting while driving, Lenhart said, and some of them can be aggressive about enforcing their point of view among their friends.
"Indeed, we quote a high-school-aged boy from one of our focus groups who says 'I'll snatch the phone out of your hands — don't be driving in the car with me and doing that … I want to live until the end of this car ride,'" when friends try to text while driving.
Educational Campaigns
Apparently, not enough teens — or adults — are so vocal. Distracted driving is behind a growing number of dangerous automobile accidents, a number of government, university and private sector studies have concluded.
For example, among crashes in which the critical reason for the accident was attributed to the driver, approximately 18 percent involved distraction, found the Department of Transportation's National Motor Vehicle Crash Causation Survey.
Laws have been passed by close to 20 states outlawing texting while driving. Many public service campaigns have been launched as well, including a particularly bloody public service announcement that caught international attention.
Cultural Factors
Such efforts may be losing against teens' insatiable need to stay in constant touch with their friends.
Most teens have a basic understanding of the dangers, Lenhart said — but that risk is constantly in tension with the desire to make contact.
"We're evolving into a society where we now have much higher expectations about 'reachability,' and that pressure to respond doesn't end when teens and adults get in their cars and turn the ignition key," she explained. "Some teens handle this by only texting at stoplights, or handing the phone to a friend when it needs answering, and others take their eyes and attention off the road."
Some parents may foster this always-accessible mindset, Mary Madden, Pew senior research specialist and report co-author, told TechNewsWorld.
Parental Messages
"Many of them have also explicitly been instructed by their parents to report their whereabouts in real- time," she noted.
"We heard this from teens in our focus groups — that sometimes their motivations for texting at the wheel were tied to the feeling that they needed to respond to mom or dad right away," said Madden. "In that way, the cellphone has become an electronic leash for some teens, and when parents call or text, teens feel compelled to respond so their parents won't get worried."
Contractual Promises
Besides being aware of conflicting messages, parents may be the best line of defense against a teen thoughtlessly sending a text message while driving, said Debra Lund, spokesperson for Franklin Covey, which publishes the 7 Habits of Highly Effective People series including 7 Habits of Highly Effective Teens.
Parents and teens should have a written agreement, she suggested, as many do on drinking and driving.
"It would need to be a win-win for both. Parents would extract a promise from their child that he or she won't text and drive, and the child would receive something he or she really wants, like the senior trip," she told TechNewsWorld.
Just having the conversation and putting the agreement in writing would lend more gravitas to the subject, Lund said.
Trust but Verify
Such discussions are essential to building awarness of the dangers, but some parents are also putting their faith in technology. A number of applications have come to the market in recent years that disable a cellphone or smartphone's text function when it is in a moving car.
Textecution, for example, is an app for the Android platform that uses GSP technology to disable a phone's text function when the device is traveling more than 10 miles per hour.
Jonathan Young, developer of Textecution, told TechNewsWorld he originally thought up the app when his teenage son was getting ready to get his driver's license.
"This is a huge problem, and parents are finally becoming aware of it," he said. "Sure, you can preach to your children, but what they do when they are not around you is another matter."