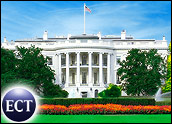 Of the 88 White House officials who also have e-mail accounts with the Republican National Committee, some 51 are missing records, according to a House Oversight Committee interim report released on Monday.
The investigation stems from a larger Congressional probe into the firing of eight U.S. Attorneys by the Department of Justice, and the possible political motivations behind their ousters. In particular, Congress wants to explore the extent of the Bush Administration's involvement in the decision-making.
In response to the inquiry, the Bush Administration admitted that some of the e-mails sought could not be found — specifically those sent from an RNC e-mail address. The RNC's policy is to delete e-mails after a certain period of time. E-mails sent from the White House, by contrast, must be preserved indefinitely.
The argument that politicos from the White House are putting forth to justify deleting the RNC e-mails is that they were about political matters, and the Hatch Act mandates that federal employees may not use government communications infrastructure or equipment for political purposes.
Another interpretation, of course, is that the senders were using the RNC e-mail address precisely so their e-mails would not be preserved for posterity — or, more immediately, for Congressional oversight.
Extensive Violations
That particular interpretation is gaining currency in light of the newly releasedCongressional report, which suggests that the Bush administration may have committed "extensive" violations of the law requiring White House records to be preserved.
It found not only that the number of White House officials given RNC e-mail accounts is higher than previously disclosed, but also that White House officials have made extensive use of their RNC e-mail accounts — and that the RNC has engaged in large-scale destruction of e-mails of White House officials.
"Of the 88 White House officials who received RNC e-mail accounts, the RNC has preserved no e-mails for 51 officials," it states.
"In addition, there are major gaps in the e-mail records of the 37 White House officials for whom the RNC did preserve e-mails. The RNC has preserved only 130 e-mails sent to Mr. [Karl] Rove during President Bush's first term and no e-mails sent by Mr. Rove prior to November 2003. For many other White House officials, the RNC has no e-mails from before the fall of 2006."
Most damaging, perhaps, is the finding of evidence that during Alberto Gonzales' tenure as White House Counsel, his office may have known that White House officials were using RNC e-mail accounts for official business, but still took no action to preserve the presidential records.
In a deposition, Susan Ralston, Rove's former executive assistant, "testified that she searched Mr. Rove's RNC e-mail account in response to an Enron-related investigation in 2001 and the investigation of Special Prosecutor Patrick Fitzgerald later in the Administration.
"According to Ms. Ralston, the White House Counsel's office knew about these e-mails because 'all of the documents we collected were then turned over to the White House Counsel's office.' There is no evidence, however, that White House Counsel Gonzales initiated any action to ensure the preservation of the e-mail records that were destroyed by the RNC."
Bush Administration Suffers
To be sure, this controversy — which is expected to widen as Congress continues to investigate — hurts the already questionable credibility of the Bush Administration and Attorney General Gonzales.
It also reinforces what any fourth grader knows by now: Don't send sensitive information via e-mail.
"The missing White House e-mails prove that you should never write an e-mail that you don't want your office mates to see, not to mention the entire world," said Eric Kuhn, founder of Kuhn & Consultants and occasional blogger for the Huffington Post. "Sooner or later, someone will forward an e-mail with yours at the bottom or pass it along."
In this day and age, he added, when it's easy to fire off hundreds of e-mails a day, it is easy to forget that there will be records of them somewhere.
Long-Term Impact
However, the actions by Congress and the Bush Administration's defensive maneuvers in response — which basically come down to variations of stonewalling and denial — are setting in motion developments that are likely to have a permanent impact on e-mail usage in the government and among politicos.
This is not a bad thing, although as Republican pollster David E. Johnson, CEO of Strategic Vision, points out, it could come back to haunt Democrats.
"Ultimately, this will mean there has to be complete accountability in e-mail usage," he told TechNewsWorld. "For future administrations, missing e-mails will be the new 'smoking gun' — just like the five minutes of missing tape was for Watergate."
Questions that future administrations will have to grapple with include how to handle e-mails and any other new communication technologies, he continued. "It won't be possible to set up separate e-mail accounts and say that these don't apply to record preservation laws because of the Hatch Act," he said. "I believe we will see new laws in place clarifying a lot of these issues."
The new laws, though, could result in embarrassing disclosures for both parties, he said, pointing to accounts that Democratic leaders had exchanged e-mails about the Mark Foley scandal before it became public knowledge.
New regulations could indeed lead to embarrassing disclosures, agrees Jeff Gulati, assistant professor of political science at Bentley College — and for that reason, he believes there probably won't be any new regulations.
"Congress is unlikely to draft new legislation to either clarify the current rules or make them more stringent," he told TechNewsWorld. "Not only will administration supporters attempt to block them, but many members of Congress would be concerned about what consequences the new rules would have for their own communication with campaign staff and political advisors."
Instead, Gulati continued, the controversy will encourage both the administration and Congress to explain the rules more fully to all concerned, "clarifying and being more precise about what can and cannot be communicated over governmental accounts, and what must be preserved on nongovernmental accounts. Ironically, the result of this in the future may be that policy makers become more reluctant to discuss sensitive issues over e-mail and resort to an old-fashioned form of communication, the telephone, in order to avoid leaving a paper trail of their deliberations and decisions. In the end, even with these new forms of technology, the public may know even less about how government really works."
Congressional Showdown
A wild card in all this is how far the White House is willing to go to defend its employees' right to send e-mails on outside systems. Never shy about pushing the boundaries of the Constitution, the Bush Administration could argue that such e-mails either fall under the bounds of attorney-client privilege or under the Patriot Act, Peter Vogel, a partner with Gardere Wynne Sewell, told TechNewsWorld.
"We could be on a collision course for a Constitutional challenge," he said. The argument could be made that any communications that discuss matters falling under the rubric of attorney-client privilege — such as the attorney general's consultations with the president — could themselves be privileged.
If such an argument were accepted, Vogel speculated, then the e-mails in question could be considered privileged, and the question of their whereabouts would be moot.