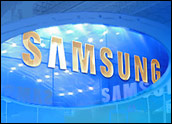 Samsung Electronics is launching a free mobile communications service called "ChatON." It works on several smartphone and feature phone platforms — but apparently not Windows Phone — and offers a Web client for tablets, desktop and notebook computers as well.
The service will let users text each other, chat in groups, share video, or create and share hand-scribbled notes on smartphones.
It is available in more than 120 countries and supports up to 62 languages. It comes in two modes: basic functionality option for feature phone users to share text, pictures, calendar and contacts, and emotions; and advanced, for smartphone users. The advanced mode, among other things, lets users see how often they communicate with friends using the Interaction Rank feature and post comments on friends' profile pages.
Handwritten Notes
Another feature available in the smartphone mode is the ability to create an "animation message." This essentially lets users create their own hand-scribbled notes, adding audio and background pictures as well.
Samsung is rolling out the service gradually across various smartphone, tablet, notebook PC and feature-phone platforms.
The company did not respond to TechNewsWorld's call requesting comment.
The Pluses
There are several advantages to the service, Azita Arvani of the Arvani Group told TechNewsWorld, starting with its near universal cross-platform functionality.
"According to Samsung, ChatON will support not just Samsung devices but also iOS and Android, and BlackBerry devices," she said. "Perhaps in the future, they will also add Windows Phone devices."
Then there is the fact that it will be preloaded on Samsung phones, making it "more inclusive than Apple's iOS 5 iMessage and BlackBerry Messenger," noted Arvani. "However, it might run into issues with making its app available on Apple App Store and BlackBerry's App World."
Many Headwinds
The service is facing several challenges as well, Arvani pointed out.
Samsung is not known for its community-type applications, and ChatON is likely to be overshadowed by such competitive offerings as Facebook Messenger and Skype, which recently announced its deal to acquire GroupMe. Users would already have social graphs on these applications. ChatON will have ties with user's Facebook connections, she acknowledged, but it is still one degree removed.
Second, "mobile carriers stand to lose potential text revenue if subscribers adopt free ChatON or other similar services," Arvani said. "They may oppose selling Samsung devices with ChatON preloaded on them."
The Me-Too Syndrome
Another challenge is that many view the service as Samsung's way of trying to stay competitive with Apple, Andy Abramson, CEO of Comunicano, told TechNewsWorld.
"It seems whenever Apple does something, the other handset manufacturers have to follow suit," he observed. "So Apple announced iMessage and now, big surprise, Samsung is rolling out ChatON."