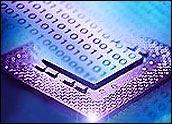 Samsung's president and CEO of semiconductors Hwang Chang-gyu has reportedly signaled the price decline in Flash and DRAM chips is likely to subside and the cost of the memory technology — popular in portable music players, digital cameras and mobile phones — should stabilize.
Analysts, however, indicated that the continued oversupply of memory chips will force prices even lower, and the only stabilization may come from consumers buying more devices and memory cards in the fall.
Still, Samsung also declared that it is looking positively toward the higher-density, higher-cost Flash memory that is increasingly popular in devices such as the iPod. Such technology represents a potentially larger margin for the South Korean chip maker.
"Any company who can make higher-density devices tends to be more profitable," Semico Research analyst Jim Handy told TechNewsWorld. "Samsung, with the higher density of their process geometry, is trying to separate themselves from the pack. They've been doing it in DRAM," he added, observing that Samsung may now be applying the same strategy in Flash.
Oversupply and Demand
Samsung's Hwang said the price stabilization will likely come from improved chip manufacturing, which has already occurred for PC processors that have transitioned to a more efficient, 90-nanometer process.
Hwang also said that a slower-than-expected embrace of next-generation technology would help to offset the current oversupply of DRAM and Flash memory.
However, Handy said the same forces that have driven down the price of DRAM and Flash memory will continue.
"With the current oversupply, I don't think all the price deflation that could happen with that has happened," he said. "Prices should fall."
The Flash Curve
Gartner research vice president Martin Reynolds told TechNewsWorld the "Flash curve," or market for Flash memory, is largely shaped by the price of the chip and the amount of memory it has. To deal with oversupply — as is the current situation after Apple's ramping down of furious iPod production and other factors — chip makers such as Samsung can keep prices the same and add more memory, or drop prices and keep memory the same.
Reynolds, who indicated Gartner forecasts Flash prices to continue declining over the next year, said the overproduction will continue to lower prices, which will drive more demand and ultimately bring prices back up.
"Just as it inevitably goes down, it inevitably goes back up," he said.
Betting on Gaming
In a related matter, Samsung also announced this week it was mass-producing new double data rate 3 (DDR3) graphics chips for PCs and gaming consoles. The company said the graphics processors represented the first high-volume manufacturing for next-generation consoles such as the Xbox 360.
Semico's Handy said that although console makers have talked about using Flash memory for storing movies or MP3s for consoles, the demand for the memory in gaming is questionable.
"That's a market that hasn't materialized," he said.