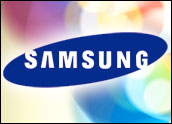 Samsung, like a whole lot of other TV makers displaying their wares at the Consumer Electronics Show in Las Vegas this week, is emphasizing the Web capabilities of its new TVs.
Among those features is what Yahoo calls the "cinematic Internet," which allows television viewers to use the remote control, rather than something like a wireless mouse and keyboard, to cruise through an assortment of Web utilities such as news channels, information feeds, video and social networks.
Other TV manufacturers also touted integration with Yahoo TV Widgets, but Samsung trotted out Yahoo VP Patrick Barry to cement the partnership.
New SKUs
As for new models, Samsung bulked up its arsenal of flat-screen TVs with the new 6000, 7000 and 8000 LED-backlit series.
The high-dollar line includes the slimmest TVs — just over an inch thick — with built-in ATSC tuners on the market, according to Samsung. To further slim down the unit's profile when it's installed in a home, the owner can hang it so that it sits just .6 inches from the wall rather than the typical 2 inches, using a new Samsung mounting technique. Samsung also skinnied a plasma TV down to a single inch.
The company highlighted an equally streamlined Blu-ray player, the WiFi-enabled, 1.5-inch thick BD-4600. Those who like to arrange their home entertainment areas sort of like museums can mount the player on a wall or get a special pedestal that sets the unit at a 25 degree angle.
How In Is Thin?
No major TV maker's CES show-and-tell would be complete this year without a stab at 240 Hz imaging. Samsung calls its technology "Auto Motion Plus." More Hz means more frames per second, and more frames means less blur in moving objects — a problem that comes up a lot if you're watching action movies or just about any show that makes use of a lot of handheld cameras. It's available on the 8000 model; the other two display at 120 Hz.
Features and picture quality aside, the emphasis placed on product skinniness brought to mind a comment made earlier in the day by Toshiba's Scott Ramirez, who said that he seldom hears people complain that their flat-screen TVs are too fat.
Does a TV or set-top box need to look as good turned off as it does turned on? How many consumers would really be excited to pay a premium to make flat even flatter? Perhaps I just have no taste when it comes to interior decorating.