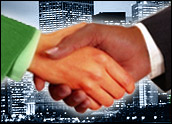 Two of the world's largest electronics makers, Samsungand Sony, announced today a broad cross-licensingagreement that will allow each company to take advantage of the other's technology.
The companies, which reported negotiating the dealfor about a year, said they would bothbenefit from one another's substantial patentportfolios. They highlighted digitization and broadbandnetwork technologies.
Martin Reynolds, research vice president at Gartner, praised the patent agreement and saidit will help foster innovation. But he also said the dealcentered more on defense against patent infringementlawsuits.
"It's eliminating the need to sue each other forthe littlest things," Reynolds told TechNewsWorld. "It'sinfringement defense. By doing that, it means they'refree to innovate."
Basic Technologies
Samsung and Sony said that the agreement was created toenable more efficient product development and businessgrowth for both companies.
"The goal was to construct a mutually beneficialrelationship whereby Samsung and Sony could use eachother's patent portfolios to effectively keep pacewith the fast and sophisticated advancement of digitaltechnologies," said a statement from the companies."This indicates a new patent relationship appropriatefor the broadband/network era."
The two electronics giants indicated the dealcovers patents for what are considered basictechnologies necessary for product development.
The agreement covers subsidiaries ofboth Japan-based Sony and Seoul-based Samsung.
Keeping Competition
Some keytechnologies, however, will not be included in the deal, "tofoster the uniqueness of each company and healthycompetition in the market," the companiessaid.
Sony and Samsung will not share patentedtechnology related to Sony's Digital Reality Creation(DRC) and PlayStation architecture or to Samsung'sDigital Natural Image Engine (DNIe) and homenetworking technology.
The companies also said TFT-LCD and organic lightemitting diode (OLED) display patents were alsoexcluded from the deal.
Infringement Issues
Gartner's Reynolds said that the companies are responding to increasing risks in the area of intellectual property.
Aggressive patent infringement suits, he said,are common in the software industry, wherethe practice has made innovation difficult.
On the hardware side, Reynolds said, there have been fewer problems because it is more difficult to determinewhether a technology is infringing,particularly if it is embedded in silicon.
Nevertheless, the Samsung-Sony cross-licensing dealdoes indicate that companies are getting moreconcerned with the "administrative side" oftechnology, Reynolds said.
There is a need for patent reformgiven the basic, sometimes "trivial" technologies thatare the basis of infringement suits, Reynolds said. In the meantime, cross-licensing deals are likely tocontinue.
"It's good," Reynolds said of the trend. "It tendsto slow the effect of patent suits."
Such agreements have historically been limited to semiconductor technology, but the increasedand faster consumer electronics market has forced aspread of the patent partnerships.