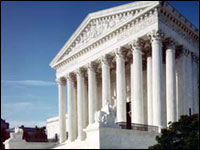 The U.S. Supreme Court declined to carve out new rights to digital privacy for public sector workers in its 9-0 decision in City of Ontario v. Quon.
The case revolved around the question of whether the Ontario, Calif., police force had the right to read text messages employees sent using the department's equipment and wireless service.
The department had no formal policy about text-messaging, but it did have a general computer, Internet and email policy, which stated that use of such equipment and services was limited to city business.
That written policy, however, was undermined by a lieutenant who collected additional money from police officers who exceeded their 25,000-character text-messaging "allowance." The officers were assured that they could use the text service for personal communications as long as they paid any extra fees.
The department decided to conduct an audit, which revealed that an officer, Jeff Quon, had sent sexually explicit messages from the police department's account. Quon sued the department for violation of his privacy. The case made its way to the 9th Circuit, which held that the police department violated Quon's Fourth Amendment rights against unreasonable search and seizure.
Narrow Interpretation
The Supreme Court decided the case on very narrow grounds, brushing aside mitigating factors such as the fact that the written policy had been negated to a certain extent by Quon's supervisor.
"Because the search [by the police chief] was motivated by a legitimate work-related purpose and because it was not excessive in scope, the search was reasonable," wrote Justice Anthony M. Kennedy.
The issue of whether an employee has rights if a supervisor sidesteps a written policy is still unsettled, Bart Lazar, IP attorney at Seyfarth Shaw, told TechNewsWorld.
The Supreme Court could have shut the door on other issues of employees' rights to privacy, but by deciding the case on narrow grounds, it did not, noted Lazar.
Essentially, what the court said was that this is an evolving area in terms of technology development, as well as how people view technology and what their expectations of privacy are with respect to it, said Allan Dinkoff, litigation counsel with Weil, Gotshal & Manges.
"It basically said it was reluctant to make hard and fast rules because the situation is still in a state of flux," Dinkoff told TechNewsWorld.
The Supreme Court punted on a lot of issues, Paul Bond, an attorney in Reed Smith's data privacy, security and management group, told TechNewsWorld.
In Quon, the United States Supreme Court passed had the opportunity to set forth a bright-line rule, but it chose not to, he said.
It could have held that when employers issued clear written policies stating that employees were to have no expectation of privacy in their communications, those employers could then monitor company-issued devices with impunity, Bond suggested.
The Court could have ruled that employees have some inalienable privacy interest even when communicating on employer-issued devices, he added. It could have determined that an employee's privacy rights are not entirely subject to waiver by an employer's edict, even on employer-issued devices, which was the thrust of the Ninth Circuit Court of Appeals ruling.
"Instead, the Court expressly declined to rule on whether Quon's expectation of privacy in his text communications was or was not reasonable," noted Bond.
Public vs. Private
Still, the Quon ruling does provides some measure of certainty to both the public and the private sector, Chris Parlo of Morgan, Lewis & Bockius told TechNewsWorld.
At the very least, an opinion in favor of Quon would have opened the door to possible similar claims — or at least expectations — in the private sector, he said.
This decision just formalizes what is common sense and conventional wisdom for both private and public sector employees, Robert D. Brownstone, law and technology director and co-chair at Fenwick & West, told TechNewsWorld.
"Have a policy in place that sets an expectation on the part of employees that the employer has the right to monitor communications in order to gauge efficiency or make other operational decisions," he advised. "As long as that policy is spelled out and consistently applied, it should be no problem."
Spell It Out
Companies need to spell out every contingency, said Brownstone. For example, some companies allow employees to access corporate networks using their own smartphones. Should emails sent and received using a personal device over a company network be subject to monitoring?
If a company thinks they should be, Brownstone said, it needs to make that clear.
As the cost of new technology drops to a point where virtually everyone can afford laptops, netbooks, cellphones, smartphones and the like, employees' reliance on employers' hardware, systems and networks will diminish, noted Barry Werbin, head of the intellectual property practice at Herrick, Feinstein — an observation the Supreme Court made in its ruling.
That will probably result in fewer issues involving employees' privacy rights in the workplace, because there will be fewer compelling reasons for employees to use their employers' computers and networks, Werbin told TechNewsWorld.
"There may be exceptions," he said. "If you work in a secure or 'clean room' environment and can't bring in your own communications equipment, the courts will have to address whether someone in a setting like that — especially if they have children at home with a nanny, or a sick, aging parent — should be denied personal communications for eight hours at a time."