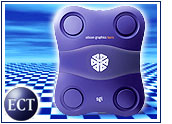 Over the past several years, SGI has gone through many changes — on the technology, finance and even corporate-culture fronts — but the company has survived and seems to be emerging stronger than ever. On the technology front, SGI has moved away from the Windows-based workstations of the late 1990s and now offers a range of impressive technology based exclusively on the company's longstanding IRIX operating system.
SGI's most recent offering is a new workstation designed for visualization, multiprocessing and digital media. Called the Tezro, the workstation can be configured with up to four 700-MHz MIPS RISC processors, each with 4 MB of Level-2 cache.
"Advanced capabilities at the desktop level are important for innovation in our business," said D.H. Brown analyst Sarang Ghatpande. "Not only does Silicon Graphics' Tezro deliver the performance improvements the market needs, it offers this capability at price points we never thought possible."
Graphic Power
Tezro's architecture is based on SGI supercomputers, with high-memory bandwidth and I/O connectivity. The new workstation, running on SGI's IRIX operating system, relies on SGI's VPro graphics chipset.
SGI designed the VPro chipset for handling advanced modeling, 3D lighting and large textures. The Tezro workstation also can display large data sets at high resolution and can support four simultaneous, synchronized monitors.
SGI's VPro graphics features "OpenGL on a Chip" for full hardware acceleration of the OpenGL 1.2 pipeline. The chipset also offers hardware acceleration of the OpenGL imaging extensions. The integrated image and texture engine is designed to speed up texture loading for rendering large, complex models or volumetric data.
Tapping Creativity
For digital media professionals, Tezro supports a suite of SGI's DMediaPro capabilities, which are modules used for high-definition and standard-definition multiformat real-time video input and output for broadcast, post-production and film editing.
Tezro is also supported by a suite of SGI application programming interfaces, including OpenGL Performer, OpenGL Volumizer, OpenGL Vizserver and OpenML. In a Visual Area Network, Tezro can participate as either a client or a server, and it can serve collaborative sessions.
When the workstation is operating as a client, users can access the scalable visualization capabilities of SGI's Onyx systems, or they can collaborate with other SGI workstation users who are running the OpenGL Vizserver server on their Tezro, Octane2 or Fuel workstations.
Cost and Consequences
SGI's Tezro visual workstations are available starting at US$20,500. Configurations for the tower workstations range from one to four CPUs and up to seven PCI-X slots for advanced media and other user-selected options.
The rack-mount configuration offers one to four processors in 2U and 4U configurations with up to 16 GB of memory and dual-head graphics capability.