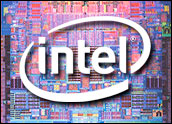 DreamWorks Animation is teaming up with Intel to build a new kind of 3-D moviemaking technology. The two companies have formed a strategic alliance in which Intel will provide both hardware and software for the Hollywood giant. The move marks the end of DreamWorks' three-year deal with AMD and will result in all new systems for the studio's computers. Financial terms are not being disclosed.
The transition comes just in time for DreamWorks' shift to a new 3-D format for its films, beginning with next year's "Monsters vs. Aliens" release. The Intel technology will power the resources needed to create those advanced effects.
Need for Speed
The biggest change for DreamWorks will be speed: The incoming Intel Xeon processors will cut down on rendering time and increase productivity for artists — particularly as they move to the 3-D format.
"It has the potential to be a real game-changer," John Batter, DreamWorks' president of production, told TechNewsWorld.
Currently, rendering a complex animation takes hours and is often left to process overnight, Batter said. The multicore Intel technology, however, will revolutionize the procedure.
"One can imagine where having the render scaled over a large number of cores enables the artist to work in real time, or near-real time," Batter said.
Processing Power
The added punch has never been more important: The modern approach to animated moviemaking will require more processing power than ever before.
"[DreamWorks CEO] Jeffrey Katzenberg has this law he calls 'Shrek's Law,'" Intel spokesperson Nick Knupffer told TechNewsWorld. "For every Shrek film they make, they need to double the computational power they put into rendering … because that makes it more realistic. If you add the fact that they're going to be moving to 3-D, that's another doubling of the performance required."
The graphic artists are already rethinking their approach — and the results, DreamWorks promises, will translate onto the big screen.
"We're finding that because of the opportunity to now use the depth, we're populating the space with more assets. You've got more visual space, so you're putting more into that space," Batter explained.
The 3-D Difference
The so-called "next-generation" 3-D movies built with the Intel technology will change the cinematic experience as we know it — and even for an average moviegoer, the difference will be impossible to miss.
"This isn't your father's 3-D," Batter noted. "This is using lightweight plastic, high-quality, polarized glasses with a digital projector that's perfectly calibrated to produce a really high-quality 3-D effect."
The end product, Batter said, will be both "engrossing and visually pleasing" — and won't result the headaches and strained eyes often associated with past 3-D products.
"We invested in the tools here to provide the ability to really fine-tune the 3-D experience," Batter commented.
Home Impact
The alliance will also allow DreamWorks to become a beta tester of sorts for Intel's most advanced technologies — including the upcoming Nehalem processor and the Larrabee graphics processing unit, both currently under development.
"DreamWorks will become a future test site for our visual computing products and technologies," Intel's Knupffer said. "We have a lot of software which we'll be testing there as well."
That testing could even lead to new products on your own home electronics. Intel and DreamWorks are planning to use their partnership to find options for bringing the top-notch technology into regular users' lives.
"I think as we're working together — collaborating at the highest end of 3-D and of computer graphics — Intel will learn about what goes into the creation and then the display of 3-D images," Batter pointed out. "One can envision that really waterfalling down into consumer devices — TVs, cell phones, the Internet."