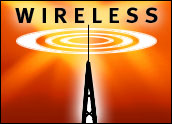 Siemens Communications claimed a historic wireless speed record this week, touting that its Orthogonal Frequency Division Multiplexing (OFDM) technology allowed it to reach a wireless data transfer rate of 1 gigabit per second, which is 20 times the speed of today's wireless local area network (WLAN).
While the speed mark was a significant demonstration of future wireless technology, it involved an experimental situation that was far from a viable market reality, according to Yankee Group senior analyst Shelley Chhabra.
"One thing to consider when you get speeds like this is [that] it's in a very controlled environment," Chhabra told TechNewsWorld. "It's good proof of concept, but it's going to take a number of years to scale that down to something cost-effective that can be used in a commercial environment."
Intelligent Antennas
Siemens nevertheless heralded its speed mark as evidence that its OFDM wireless technology, which combined three transmitting and four receiving antennas, is poised to succeed Wideband (W-CDMA) as capacity needs rise.
Beginning in the year 2015, the next-generation of mobile infrastructure must be capable of efficiently transmitting voice, data, images and multimedia, Siemens said.
"Future mobile communication systems will have to utilize the frequency band as efficiently as possible, with the lowest possible transmit power," Siemens Mobile Networks President Christoph Caselitz said in a statement. "With our experimental system, we've been able to demonstrate how powerful intelligent antennas can be in combination with OFDM."
Deployed But Developing
Although analysts acknowledged that interest and development of OFDM technology is increasing, they also downplayed the technology's readiness.
"It's out there and it's being implemented, but there is still a lot of work to be done in terms of receivers and transmitters," Chhabra said, referring mainly to power requirements.
Still, the analyst indicated that OFDM, along with WiMax and other new wireless technologies, are becoming increasingly important in the next-generation wireless market.
"You're going to hear a lot more about it," she said.
Power Issues Addressed
Siemens acknowledged that the need for computing power was currently limiting multiple-antenna systems. The company said the information transmitted simultaneously by multiple antennas is received by multiple receiving antennas and must be reconstructed in real time for the receiving device.
That process exceeds the capabilities of today's mobile processors, but Siemens sidestepped the issue by developing new, optimized signal-processing algorithms that could be implemented on today's hardware modules, the company said.
Siemens, which said it was working on increasing the data rate and mobility of multiple-antenna devices, indicated the experimental system operates in the 5 GHz band with a bandwidth of 100 MHz. The company said it would unveil the system to the public at the 3GSM World Congress 2005 in Cannes, France.
Not Much Insight
Those details were not enough, however, to satisfy Gartner mobile computing Vice President Ken Dulaney, who told TechNewsWorld there are too many unknowns in most announcements on wireless speed, including this latest from Siemens.
"There's not much insight in making that statement," Dulaney said of Siemens' new announcement. "There's a whole lot of factors that impact statements on speed, and the companies never include them. How far was it transmitted? What were the conditions? What power was required? What interference was considered?"
"Without any qualification, I would say it's just a press release," Dulaney added.