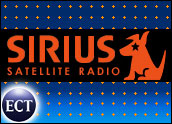 Sonos, which sells wireless, multi-room home audio systems, has introduced new software that allows users to access Sirius Internet Radio.
Called "Sonos System Software v 2.3," the new offering enables Sonos owners with Sirius subscriptions to access Sirius programming and control their listening with the handheld Sonos Controller. Sonos' components use Linux-based wireless technology to music and other digital content throughout a house. The systems can distribute to up to 32 rooms and play different material in each room.
While Sirius is primarily a satellite radio company, its content is also streamed over the Internet for paying subscribers. It's through this portal that the Sonos devices connect, "eliminating the need for an antenna, satellite radio hardware or even a PC," noted Sonos in announcing the new software.
Beyond the Car
The company said the package provides Sirius subscribers with "their first broadband-delivered, PC-free" way of hearing Sirius programs in the home.
"Working with innovators such as Sonos is important to our ongoing strategy of delivering our content beyond the car," said Sirius CEO Mel Karmazin. The company is determined to give its customers simple ways of accessing Sirius content "anywhere they go, including anywhere in their home," he said.
To whet the appetites of existing Sonos customers, the companies are offering them a free 30-day trial subscription to Sirius Internet Radio. For US$2.99 per month extra, existing Sirius Satellite Radio subscribers can upgrade to premium Sirius Internet Radio to receive premium audio quality streams via Sonos. Getting Sirius via Sonos will cost $12.95 per month for those who are not current Sirius subscribers.
Merger Sweetener
Sonos has already partnered with other audio services, including Audible.com, eMusic, MTV Networks' Urge, Napster, Pandora, Rhapsody, Wal-Mart, Yahoo Music Unlimited and the Zune Marketplace. Its systems cannot play DRM-protected (digital rights management) music, including Apple's iTunes files, although the more expensive DRM-free iTunes content is playable.
The addition of Sonos to Sirius' catalog might help Sirius in its effort to merge with competing satellite radio company XM, said Strategy Analytics analyst Mark Fitzgerald. The theory is that deals — such as the one with Sonos — will convince regulators the merger would not be monopolistic because the company is competing with other Internet radio entities.
"Essentially, I'm sure XM and Sirius are going to argue that while they are the only paid satellite-based entertainment companies, that's not the only place people are being entertained from," Fitzgerald told TechNewsWorld. "There are iPods, cell phones, land-based HD radio and Internet-based radio."
While satellite radio is popular for automotive uses, Sirius wants to get more people listening inside their homes, added Fitzgerald. "They want to have it so it's not just car-based," he said.