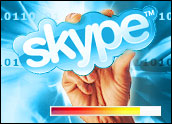 Logitech and Skype have developed a new product to target Skype consumers who miss the sophisticated call features of their traditional, deskbound telecom systems but still want to use the Internet-based network. Named EasyCall Desktop, the product includes a mouse, headset and speakerphone.
It also features a Skype-specific keyboard that includes one-touch buttons for launching Skype software, placing a call, ending a call, changing the user's online status, and dialing a mobile or traditional phone. The F9 to F12 keys also act as programmable speed-dial buttons.
The two companies plan to first market EasyCall Desktop in Europe, beginning in mid-September.
Tangible Products
This latest product rollout by Skype is part of the company's larger plan to target consumers with tangible products, says John Arnold, an independent VOIP consultant with J Arnold & Associates in Toronto.
"Skype is moving into the next phase of its development by offering actual products — not just a service that can be downloaded from the Internet," he tells TechNewsWorld.
In part, this is just the natural trajectory that analysts expect Skype to follow, he notes. Skype's move into product development is also a reflection of the pressure eBay is under to show a return on investment in its acquisition of Skype, he adds.
"It can be difficult for mainstream investors to understand what Skype is and what it offers, and how itdifferentiates itself from similar offerings in the market, like Vonage," Arnold says. Offering a tangibleproduct not only shows that Skype is on the path to returning eBay's investment, it also illustrates to shareholders how its services work, he explains.
In a separate initiative, Skype has announced plans to introduce WiFi phones for its VoIP service in Q3. One manufacturer, Sony, will be introducing a handheld device next month called Mylo, which will offer instant messaging, e-mail, Internet browsing and voice communications through Skype, via WiFi networks.
Ongoing Partnership
Skype and Logitech have previously partnered to introduce Skype users to video calling and other products, such as the Cordless Internet Handset, QuickCam STX for Skype, QuickCam Chat for Skype, and QuickCam Communicate STX for Skype.
"Skype has been a driving force behind the success of Internet calling in Europe," says Denis Pavillard,Logitech's vice president of product marketing for keyboards and desktops. "Working with Skype, we've integrated the Skype Internet calling experience with a complete desktop solution, so that people can quickly access the Skype features they've come to rely on."