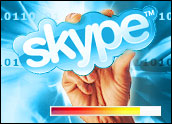 Skype said that a Microsoft patch downloaded on Patch Tuesday triggered a bug in its software that eventually resulted in the IP (Internet Protocol)-based service going dark for nearly two days.
The disruption in the free, peer-to-peer (P2P) network began unexpectedly on Thursday. Service was completely restored by late Friday.
The system went down because of "a massive restart of our users' computers across the globe within a very short time frame as they rebooted after receiving a routine set of patches through Windows Update," said Skype.
Chain Reaction
Skype was unable to handle the large number of users simultaneously coming back online after their machines rebooted — a problem that was exacerbated by fewer systems available to handle traffic.
However, while the blackout was triggered by the Microsoft patch, the problem originated by a previously unseen software bug within the network, the company said. This bug prevented the network from coming back online as it was designed to do in such circumstances.
"Normally Skype's peer-to-peer network has an inbuilt ability to self-heal; however, this event revealed a previously unseen software bug within the network resource allocation algorithm which prevented the self-healing function from working quickly," the company said.
Unprecedented Outage
Such an event was unprecedented for Skype, according to Jon Arnold, principal of J Arnold & Associates. Ultimately, he told TechNewsWorld, it caused no permanent damage to users, except inconvenience.
The company will likely not suffer any long-term ramifications, he added. "I think in few days or weeks this will be entirely forgotten."
However, the incident may well cause Skype or, more likely, potential business users to rethink the service — unless changes, or at the very least a more comprehensive explanation, is forthcoming.
"The trade-off when a service is free is that you accept such glitches in good spirits," Arnold said. "Consumers, after all, have other ways to communicate."
A Wake-Up Call
However, if Skype is going to market itself to business, users will expect a higher level of service. "It is a more demanding environment, of course, and as the stakes get higher, Skype may have to reevaluate its architecture, engineering and systems."
Skype is hardly the only P2P telephony option in the market, Arnold noted. It differentiates itself from other vendors in the network by its super node-based architecture. "It may be that Skype will want to look at its distributed computing environment after this event," Arnold speculated.