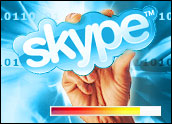 Skype released a beta version of its mobile Voice over Internet Protocol (VoIP) application that can be downloaded to a variety of phones.
The application, which the company says is still unstable, will allow people to set up group chats, see when contacts are online, make SkypeIn and SkypeOut calls and talk with those who use the computer-based Skype application. The beta test will be used to refine performance issues and test new mobile applications.
"While Skype for your mobile is in beta, it is an important time for us to listen to our users' feedback, be it through surveys or user forums," said Gareth O'Loughlin, Skype's general manager for mobile and hardware devices. "We need to hear what delights them and where there is still work to be done. But this product underscores our commitment to innovation and to putting Skype conversations in the pockets of today's mobile masses."
Mobile Expansion
The software application differs from the company's previous entre into the mobile market last year. Skype partnered with 3, a mobile operator, to release the 3 Skypephone, which came with Skype built into the system, allowing anyone with the computer-based Skype application to talk with 3 Skypephone users.
The current mobile application works with selected Java-enabled models from Nokia, Motorola, Samsung and Sony Ericsson; however, the company said it will add more phones and brands in the coming months. Similar to the fee scale for the computer-based Skype, there is no charge for Skype-to-Skype calls but a fee for SkypeIn and SkypeOut calls placed to or from people outside the Skype network.
Emerging Market
The real value in these services, though, isn't the cost structure but the added functionalities, Ivan MacDonald, CEO of Rococo Software, an Ireland-based Java technology developer, told TechNewsWorld. Those functionalities are only going to increase as mobile handsets become more open.
While Skype continues to dominate the VoIP landscape — and will likely have a leg up in the mobile market because of its current market share — mobile handsets are becoming far more open, which means that any software maker will be able to provide applications for the mobile devices, said MacDonald.
"What is creating the greatest opportunity for Mobile VoIP is the arrival of more flexible, open handsets," he added. "So much functionality was typically 'spiked' in handsets because carriers didn't really want to enable Mobile VoIP. It will be interesting to see, for example, what Google Android phones bring to this market. I expect you will see a huge number of mobile VoIP clients and services sitting on those phones."