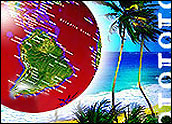 Assuming he can get there, it looks as though leaker/hero/traitor Edward Snowden has options as he seeks a place to take up asylum.
Venezuela and Bolivia have now both offered asylum to Snowden, who is believed to be holed up in a Moscow airport. Snowden reportedly submitted a formal asylum request with Venezuela and Nicaragua, which has not offered asylum but is considering it, according to reports.
Interestingly, and perhaps a bit comically, several European countries refused to allow Bolivian president Evo Morales to enter their airspace after his trip last week to Russia for fear that Snowden was aboard the plane. Without a reasonable route home, the plane landed in Vienna, Austria, where authorities confirmed that Snowden was not, in fact, on board.
U.S. Senator Robert Menendez, a New Jersey Democrat and chairman of the Senate Foreign Relations Committee, said Sunday on Meet the Press that any nation that granted Snowden asylum would be "taking a step against the United States."
Cuban president Raul Castro, meanwhile, said Sunday that he supports Latin American countries' rights to grant asylum to Snowden.
In his Nicaragua asylum request, published onlineby an Ecuadorian media outlet, Snowden likened his situation to that of Julian Assange, the WikiLeaks founder who has been granted asylum in the Ecuadorian embassy in London. He added he was unlikely to receive a fair trial if he were extradited to the U.S., where authorities would like to ask the former National Security Agency contractor a question or two regarding his ongoing disclosures about U.S. intelligence- and data-gathering practices.
[Source: CNN]
Hackers Take Aim at South Korean Military
McAfee Labs issued a report Monday warning that hackers are going after the South Korean military, specifically targeting the country's military secrets.
The report claims that the same group that wiped clean tens of thousands of South Korean PC hard drives in March — that attack was dubbed "Dark Seoul" — has created malware that scans systems, culling for keywords such as "US Army," "weapon" and "secret." The report adds that, once a computer's contents have been cataloged, hackers can go do town and "grab documents at will."
McAfee has taken to calling the attack "Operation Troy" because the code used in the malware contains numerous references to the ancient city. The attack was reportedly first launched in 2009.
South Korea has downplayed the threat.
South Korea was also the victim of a May attack that temporarily crippled computers at some banks and television stations.
[Sources: McAfee Labs, BBC,Associated Press]
State Department Not Happy With Singapore Web Rules
The U.S. State Department said it is "deeply concerned" about Singapore's new Internet regulations.
The regulations, which have already prompted a joint letter from U.S. Internet giants, will require websites garnering more than 50,000 unique visitors from Singapore each month to post a "performance bond" of nearly US$40,000 and apply for a license. The sites will also be required to remove objected-to content within 24 hours.
The U.S. urged Singapore to "ensure that freedom of expression is protected," State Department spokesperson Jen Paksi said at a press briefing, adding that she was "concerned … to see Singapore applying press restrictions."
[Source:The Next Web]
SoftBank: Deal to Close Wednesday
Japan's SoftBank said Monday that its $21.6 billion acquisition of Sprint Nextel should be completed Wednesday.
The Federal Communications Commission granted the two companies formal approval last week, and by Wednesday, SoftBank expects to have its t's crossed and i's dotted.
Last month, lawmakers voiced concerns about a foreign company taking over a U.S. wireless carrier, going so far as to question SoftBank's connections with much-maligned Chinese telecoms like Huawei. Heeding these concerns, SoftBank had already agreed to give the Department of Homeland Security and the Department of Defense the power to review and veto equipment, and to remove equipment made by Huawei.
[Source: Reuters]