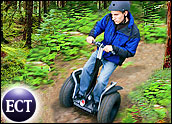 For the second time in three years, Segway has issued a recall of its popular personal transporters, prompted by a series of injuries, some requiring hospitalization, that some riders have suffered when performing certain maneuvers.
A software glitch is responsible for the defect. Specifically, the "speed limiter" in a Segway can cause it to tip backward suddenly, throwing off the rider.
Consumers are asked to stop using the Segways and contact the company for a free software upgrade. Consumers can contact Segway at (800) 750-6557 between 8 a.m. and 8 p.m. EST Monday through Friday, or visit www.segway.com.
A Wide Net
"The safety of our customers and our products is our top priority. When we identified this condition we notified the CPSC (U.S. Consumer Product Safety Commission) and immediately began working on a software upgrade to address the issue," said Jim Norrod, Chief Executive Officer of Segway. "We have a software upgrade available now for consumers and we strongly encourage our customers to obtain the upgrade as soon as possible. We are committed to making the upgrade process convenient for our customers."
This recall is a significant one for the company as it encompasses most of Segway's product line: the software bug affects all Segway PT i167, i170 and i180 models; the p133; the XT or cross-terrain transporter; the GT, or golf transporter; and i2 models. The e167 or e Series models, which were sold to commercial users, are also included in this recall.
The Segway x2, due for release later this month, is not affected by the recall, and all new shipments of the i2 are being shipped with the new software release, according to Segway.
Numerous Injuries
Segway said it has received six reports of injuries to riders' heads and wrists. Some were serious enough to require hospitalization, according to Scott Wolfson, a spokesperson for the U.S. Consumer Product Safety Commission.
"People had injuries to the face, cuts to the chin, broken teeth and broken wrists. We want consumers to respond to the recall immediately — there is a remedy available to riders right now," Wolfson told TechNewsWorld.
The recall covers roughly 23,000 units. It is not the largest recall the agency, which puts out upwards of 400 recalls a year, has handled, he added, noting the 2.7 million laptop batteries that were recently recalled.
"What is unique about this recall versus others we do is that it involves all of the products. Many recalls are usually of a subset of an overall model line," explained Wolfson.
Consumer response to recalls varies, he says, although the response rate for higher end products is usually good. Segways retail for US$3,500 and up.