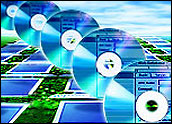 Paired with printing specialist Toppan, Sony has announced a new, Blu-Ray-based disc capable of holding 25 GB of high-definition programming through digital information's prehistoric precursor: paper.
Sony said its new optical data storage medium, to be detailed next week at a storage industry conference to be held in Monterey, California, uses a total of 51 percent paper.
Sony and Toppan said that by using paper they could imprint highly-detailed labels on optical discs with the newer Blu-Ray technology, a DVD format backed not only by Sony, but also by HP, Dell, Hitachi, Samsung and Philips.
Pegging worldwide optical disc production at 20 billion units per year, Sony said the combination of paper material and printing technology is also expected to lead to a reduction in cost per disc and expand already increasing adoption of optical discs.
Reading the Fine Print
The key to the paper disc technology lies in the ability to print in fine detail with Blu-Ray's blue laser, according to Sony senior general manager of optical system development Masanobu Yamamoto.
"Since the Blu-Ray Disc does not require laser light to travel through the substrate, we were able to develop this paper disc," he said. "By increasing the capacity of the disc, we can decrease the amount of raw material used per unit of information."
Backed by a group called the Blu-Ray Disc Founders (BDF), the blue-laser technology is seen as the likely successor to today's prevalent red-laser technology because it offers increased capacity and content capability.
Format Fight
However, major technology providers such as NEC and Toshiba support a different blue-laser disc format known as HD DVD, which has won the support of the DVD Forum. Observers see the laster format competition developing further as both win wider acceptance in the industry. The vying standards might possibly replay a historic battle between formats such as the CD-versus-DIVX fight.
Still, HP consumer PC senior vice president John Romano said his company believes Blu-Ray is the most consumer-friendly solution for removable storage. HP joined the BDF group earlier this year.
"With ever-expanding uses for digital discs in the market, HP believes Blu-Ray Disc will allow for the seamless interchange between consumer electronics and personal computers," Romano said.
Gartner research director Martin Reynolds, who said there was ample time for the format battles to play out, agreed that the PC is key to the next-generation DVD disc.
"Dell and HP are significant because they have critical mass to make Blu-Ray the PC standard," Reynolds told TechNewsWorld. "PCs will be the bigger volume, and consumer devices sourced from outside of the DVD Forum will follow them."
Cutting Security Concerns
In addition to increased capacity and wider content support, including high-definition video, the paper disc also will provide a degree of security, according to Toppan managing director and head of corporate research and development Hideaki Kawai.
"Using printing technology on paper allows a high level of artistic label printing on the optical disc," Kawai said. "Since a paper disc can be cut by scissors easily, it is simple to preserve data security when disposing of the disc."
Sony and Toppan said they were continuing work to further develop the disc for practical use.