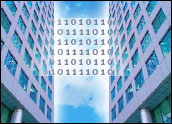 Sony Ericsson has taken direct aim at the handheld business solutions market — which BlackBerry once owned — with the release Monday of its new M600 phone and messaging device, the second Symbian OS 9.1 and UIQ 3.0 enabled phone in the Sony Ericsson product line.
Features designed to entice corporate users on the go include new push e-mail applications, remote synchronization, and expandable memory — all in a sleek form factor, the company pointed out. At just 15 millimeters (a little over half an inch) thick, it is one of the slimmest business UMTS phones of its kind available, Sony Ericsson said.
"Estimates show that there are approximately 650 million business e-mail users around the globe, and the demand for true mobile e-mail is growing rapidly," says Jan Wareby, corporate executive vice president and head of sales and marketing at Sony Ericsson. "While there are some standalone e-mail messaging devices available, many people will welcome fast and easy messaging tools integrated into their mobile phone."
Other features allow users to browse the Net while making a call, and send and receive e-mails with large attachments. Documents can be viewed in PowerPoint, Word, Excel and PDF.
Focus on Business Solutions
The fact that BlackBerry's hold is suddenly weakening is partly a matter of timing and product development, although it is clear that Sony Ericsson would like to pick up users worried about the system's long-term viability.
Smartphone providers with high level operating systems have been developing plans for some time to target the mobile business solutions space, Ryan Reith, research analyst for IDC's mobile phone tracker team, told TechNewsWorld.
Until now, many have focused on multimedia feature sets — and the user base most interested in such functionality. Now, attention is turning more toward devices that offer business solutions. The M600, Reith noted, is part of this larger trend for the company, which until now has been concentrating more on its Walkman-branded phones.
Worldwide mobile phone shipments rose 19.3 percent year over year and increased sequentially by 16.8 percent, reaching 245.2 million units — a record for a single quarter, according to IDC's Worldwide Quarterly Mobile Phone Tracker released Jan 31. In addition, worldwide converged mobile device shipments rose 100.3 percent year over year and increased sequentially by 20 percent during the quarter to reach 16.8 million units, IDC said.
Sony Ericsson capped off a record year of shipments with 16.1 million units shipped in the fourth quarter, the report also found, marking a 27.8 percent year-over-year increase and a 15.8 percent gain over the previous quarter.
Global Access
Different regional variations of the M600 will start shipping in Q2 2006:
the M600i — a Dual Mode UMTS 2100 MHz, GPRS 900/1800/1900MHz device for the Europe, Middle East, Africa, Asia Pacific and Americas marketplaces; and
the M600 — a Dual Mode UMTS 2100 MHz, GPRS 900/1800/1900MHz device meant for Mainland China once 3G services become available.
The M600 will be available in four hardware keyboard variants: QWERTY, QWERTZ, AZERTY and Russian.