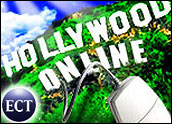 Sony Pictures Entertainment has recast Grouper, a video-sharing Web site it acquired last year for $65 million, to attract a more professional caliber of contributed content.
The strategy is to differentiate Grouper, which has now been renamed"Crackle," from the more amateur video-sharing sites such asYouTube. This not only will help Crackle's content stand out in the avalanche of user-generated content on the Web, but also differentiate the site for advertisers.
"The evolution of online video will bring viewers more professionally produced material," said Sean Carey, senior executive vice president of Sony Pictures. "Crackle will provide this next wave of creative talent a forum that will give them the exposure and recognition they seek and deserve."
Branded Channels
As part of the makeover, Crackle is emphasizing a number of branded channels in different genres; user content is judged by site editors and other users.
For example, one is "Judgment Day," a collaborative reality show that involves people "judging" people they don't know and then interviewing them to find out if their assumptions were right. Another is "Scrambler," a video music magazine with an indie rock focus. Other channels are "High Wire," a forum for stand-up comedy; "Wet Paint," which features short-form edgy animation; "Firehouse," which shows true experiences of firefighters; and "Moving Targets," a sketch variety channel soon to be introduced.
Contests and Other Lures
To entice its target participants, Crackle has introduced contests that let users compete for development and distribution deals. Winners get a shot at wider distribution and industry contacts.
For instance, the best emerging stand-up comedians spotlighted each month on "High Wire" will win a chance to be center stage at the Improv comedy clubs and have an opportunity to pitch their comedy shorts to the Improv Comedy Lab — a new comedy-centric broadband content studio — for final production and distribution.
Improv is also offering contest winners a chance to fly either to Los Angeles, New York or Chicago to perform a 15-minute set on a Thursday, Friday or Saturday night.
"We reward the best video creators with Crackle funding, promotion, syndication and even greater exposure to our large media partners," stated Josh Felser, founder and copresident of Crackle.
Path Is Unclear
Harnessing user-generated content has become the latest strategy for Web 2.0 sites, which then must figure out how to make the site attractive to advertisers.
Even the giants in this emerging space, such as YouTube and Google, are not committed to any one strategy; they are simultaneously trying out several in the hopes of hitting on the right combination, Kathy Sheehan, vice president of GfK Roper Consulting, told TechNewsWorld.
"This is still uncharted water for a lot of companies," Sheehan said. "Obviously these sites are where the eyeballs and people are going. But marketers — and the sites themselves — are still hesitant about how to monetize the content and are unsure what are the next steps."
One dynamic has become clear: These sites' demographics are a constantly moving target, making it more difficult for marketers to place a solid bet on one site or another, she added.
For instance, the average age for MySpace over the last 12 to 18 months has risen, Sheehan noted. Meanwhile the early users, young people, are starting to abandon the site as they see adults on it.
Finding a Base
Given the shifting user and site profiles, it has not been easy to develop a road map for Web 2.0 companies, despite a plethora of advice.
Web 2.0 sites based solely on entertainment — as opposed to practical tools used every day — are more likely to lose users as they glom onto the next big thing, predicted Matt Goddard, principal at R2i.ntegrated.
"It's not as though it would be as painful a switch to move all of your photos from Flickr," he said.
Even the gimmicks used to promote a site can have a shelf life, Richard Laermer, CEO of RLM PR, told TechNewsWorld. Consider Crackle's emphasis on contests. "The idea of having people compete 'American Idol'-style is moving past its peak. Web 2.0 sites and strategies are continually evolving. You can't count on yesterday's winning strategy more than a season."