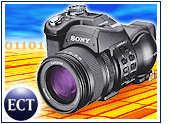 Sony's digital camera line has reached new resolution levels with the release of the 8-megapixel Cybershot DSC-F828. The new camera is encased in a black, magnesium-alloy body, and is the first to incorporate Sony's recently announced four-color filter technology.
Recognizing that current digital cameras borrow a nearly 40-year-old color-reproduction system developed for televisions and computer displays — namely RGB, standing for red, green and blue — Sony began developing a new color filter early last year to improve color accuracy.
The new approach — which Sony calls RGB+E — adds an emerald-colored pixel to the filter pattern to bring color fidelity closer to human color perception. According to Sony, the DSC-F828 — the first model to use this new color system — realizes a level of color accuracy "not possible with other digital cameras."
"The Sony technology is impressive," industry analyst Rob Enderle told TechNewsWorld. "And they will be battling with other technology initiatives like Foveon's X3 technology for the lucrative future of the digital photography market."
Delayed Release
The camera will not be distributed for several months, and if the new RGB+E technique does prove to turn out better-quality images than the standard RGB technique, the company might have trouble promoting and popularizing the new technology into other visual platforms, such as CRT or LCD monitors.
"Unfortunately, Sony does not have the best record with regard to getting others to adopt their technology," said Enderle. "This will hamper their success here, but if they can be successful, the outcome could help drive an even faster conversion from film to digital photography."
This technology likely can't save CRTs, said Enderle. However, he said, a similar technology could be applied to projection and flat panel TVs to improve the realism of the programming on them. "This technology, were it widely adopted, could enhance our experience with digital images, making virtual reality more likely."
Since digital camera technology entered the consumer market almost 10 years ago, each new imaging breakthrough has brought prices down and moved camera technology along. Now, high-quality digital cameras are relatively inexpensive.
"Traditional film cameras have already entered into decline with only the low end holding some share," said Enderle. "Within five years, film will become niche only with the mainstream moving entirely digital by the end of this period."
Technical Specs
Sony's new image sensor gives the camera the ability to take a maximum image size of 3,360 x 2,460 — which equates to 11 x 17 inch prints at 200 dpi or 8.5 x 11 inch prints at 300 dpi. The camera comes with a Carl Zeiss Vario-Sonnar zoom lens that evaluates five separate areas of the frame to focus on the subject intelligently.
The camera also comes equipped with Sony's proprietary NightShot infrared system, which lets the camera capture infrared images in total darkness at a distance of up to 15 feet. To capture images in low or no light, this feature illuminates the subject with the NightShot system, then focuses and lights the scene with the appropriate amount of flash.
In addition to JPEG and TIFF formats, the camera supports Sony's RAW format, which lets you change the parameters of an image prior to capturing it. The camera also supports MPEG capture to record video at 640 x 480 pixels at 30 frames per second up to the capacity of the storage device.
The camera comes with an InfoLithium battery, AC adapter and charger, AV output cable, USB cable, lens hood, shoulder strap and lens cap. The Cybershot DSC-F828 camera will be available in November with a suggested price of about $1,200.