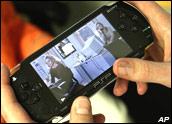 Sony is giving PlayStation customers a trip to the movies.
This week the company announced its Memory Stick Entertainment Packs, "designed for people who want to experience the full range of multi-functional features" on their PlayStation Portable systems.
One- or 2-gigabyte versions will cost US$60 and $100, respectively. They will be made available in August online and at Sony Style retail stores and authorized dealers in the U.S.
Customers can choose from four movies, including "Hitch," "S.W.A.T.," "The Grudge" and "XXX: State of the Union."
"We had great success on the big screen with each of [those] movies," said Mike Arrieta, senior vice president, digital distribution and mobile entertainment, Sony Pictures Home Entertainment. "We expect consumers to have renewed enjoyment from these movies on the go as we make them available on Memory Stick media cards for the PSP system."
Unique Position
"Sony is in a unique position in the flash memory market because we are connected to other Sony companies that provide content, like movies from Sony Pictures," Mike Kahn, senior manager for memory stick media at Sony Electronics, told TechNewsWorld. He noted that the Memory Stick Entertainment Pack is designed to offer content along with flash memory.
"This was a great opportunity for Sony Pictures Home Entertainment and Sony Electronics to work together to provide an added value to PlayStation customers who are purchasing a Sony Memory Stick for their PSP," Kahn added.
The packs will be bundled with an installer DVD. Once a customer loads the DVD into his personal computer, he can use the unlock code in the package to select, unlock and transfer one of the four Sony movies optimized for PSP playback from the DVD to the Memory Stick media.
Although the Memory Stick Duo cards included in the Entertainment Pack can be used with any enabled device, such as Cybershot cameras, Handycam camcorders and Sony Ericsson mobile phones, a movie transferred from the bundled DVD is viewable exclusively on the PSP system.
Focus on Sales
The new offering may be a reaction to diminished interest in Sony's Universal Media Disc.
"The fact is, the UMD had some early success; they had a lot of cooperation from movie studios," Brian O'Rourke, senior analyst at In-Stat, told TechNewsWorld. "But it tailed off pretty quickly, because people didn't want to pay 30 bucks for a movie they might already have on DVD."
Compared to the UMD, which is read-only format, the Memory Stick is more flexible, O'Rourke said.
Ultimately, however, the films are a way to drive market share, he pointed out. The PSP is faring well in the United States and Europe, although it is trailing behind Nintendo DS, especially in Japan.
"All they're doing is using the news as a way to convince people to buy Memory Sticks. They're trying to increase sales. The movie is just a bonus," O'Rourke said. "It's a way of recognizing the PSP as a multifunctional device."