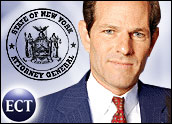 New York attorney general Eliot Spitzer has filed suit in the New York Supreme Court against Direct Revenue, an Internet pop-up advertising company, for surreptitiously installing spyware on unsuspecting users' computers via free games or software.
Adware accompanying the free downloads tracked Web activity and delivered pop-up ads, according to the filing.
Spitzer also sued Los Angeles-based Intermix Media for similar activity. The case was eventually settled with the firm agreeing to pay US$7.5 million in penalties over a three-year span. The former CEO also paid a $750,000 penalty.
Under Assault
These suits are part of the continual fight government regulators and industry watchdogs have been waging — with limited success — against spyware and other malware.
Earlier this year, the Center for Democracy & Technology, a Washington, D.C.-based public interest group, once again asked the Federal Trade Commission to sue 180Solutions for deceptive practices. The firm routinely allows distributors to install adware on unsuspecting computer users' machines.
The citizens' group has made similar requests to the FTC over the past two years, but with little result.
Momentum for Change
There is more momentum for change now, though, Bill Day, CEO of WhenU, another New York-based adware company, told TechNewsWorld.
"There have been a number of changes in the adware space over the past month," he said, citing the renewed complaints against 180Solutions as one example and the Direct Revenue suit as another.
By the end of the year, there will be a clear delineation among firms, Day predicts. Those that embrace deceptive or shady tactics will be driven either out of business or further underground. Those that remain will move closer to the best practices that WhenU embraces, he said.
Throw the Book at Them
Not surprisingly, these initiatives have been applauded in many Internet quarters.
"I hear far too often from my community how going to the wrong Web site can be a disaster," said Dave Taylor, author of The Complete Idiot's Guide to Growing Your Business With Google. Taylor maintains the blog, "The Intuitive Life," which focuses on business and industry analysis.
"Dozens of pop-ups take over the computer, spyware is installed, and even viruses are dropped onto a computer — all because of a one-letter typo in a domain name or [something] similar," he told TechNewsWorld. "Frankly, I'm glad to see Spitzer go after some of these advertising companies."