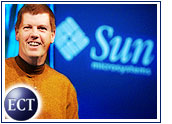 In a bid to keep up with rivals Intel and IBM, Sun has revealed more of its "Throughput Computing" strategy by unveiling the new UltraSPARC IV processor, which uses multithreading to speed performance twofold compared with the UltraSPARC III.
Sun said the UltraSPARC IV will begin shipping in systems during the first half of next year. It is part of a larger strategy that will include "a more radical chip multithreading design" by 2006, which may increase throughput of today's UltraSPARC IIIi by as many as 15 times.
Sun's processor moves have been highly anticipated by its customers, but they come at a time when many industry observers are calling for Sun to exit the processor business — an industry where the company faces fierce and constant competition from Intel's Itanium and IBM's Power processors.
"Certainly, the message is Sun should reconsider what it's doing with processors," Gartner vice president of research Martin Reynolds told TechNewsWorld. "Sun's value doesn't lie in the processor anymore. It lies in the robust systems and infrastructure they're capable of providing."
More Threads for Throughput
In revealing more about the new UltraSPARC IV at the 16th annual Microprocessor Forum in San Jose, California, Sun touted its multithreading design, which allows the processor to execute multiple application threads simultaneously to improve overall throughput.
Reynolds, who likened the technology to multiple processors on a single chip, said it was easier for Sun to build the multiple cores on one chip than to redesign a more advanced chip.
The Sun UltraSPARC IV has a dual-threaded architecture — two UltraSPARC III cores — and features an on-chip memory controller that supports up to 16 GB of DRAM and on-chip tags for 8 MB of off-chip Level 2 cache per core.
Overwhelming Numbers
Sun's strategic marketing manager for UltraSPARC, Harlan McGhan, told TechNewsWorld that the company eventually will move to 90-nanometer production with longtime partner Texas Instruments and has plans for a processor with eight cores on a single-chip die.
"That's a single chip that can actually execute 32 threads in parallel," McGhan said. "We think the strategy of overwhelming the compute problem with numbers is an opportunity."
While he praised the additional cache Sun built into the new UltraSPARC IV, Reynolds said Sun's multithreading technology is still untested in practice.
Competing, Not Crushing
Aberdeen Group research director Peter Kastner told TechNewsWorld that although Sun's processors are not leaving competing chips in the dust, they do not need to do so.
"Sun's customers want UltraSPARC IV to be successful so they can continue to feel comfortable investing in Sun and in Sun's real strength, which is Solaris," Kastner said. "To Sun's installed base, UltraSPARC IV has to be competitive. It doesn't have to be world-beating."
Reynolds, who said Intel's Xeon processor is taking a toll on all competitors, indicated that the large server market where Sun has historically played well is suffering from the increasing share of lower-cost servers.
Sun Chips Go Stale
Reynolds echoed other industry analysts who have called on Sun to walk away from processors, where the Santa Clara, California-based company has never been a performance leader.
"One has to wonder if the economics behind it make as much sense as they did 15 years ago," he said.
In response, Sun's McGhan said the company believes there is room for technological innovation that cannot be achieved through the "commodity price/performance curve."
Aberdeen's Kastner also said it would be foolish for Sun to exit processors, given the company's history and investment already.
"The big picture is Sun has more to gain at this time by delivering a world-beating UltraSPARC IV than by abandoning 20 years of work in chip research," Kastner said.