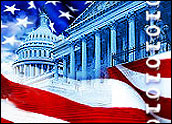 The Supreme Court has ruled that the Environmental Protection Agency has the authority to regulate automobile emissions, contrary to the Bush administration's position.
While rooted in a technicality — a state's challenge to a federal agency's interpretation of the law — the decision in Massachusetts v. Environmental Protection Agency is being lauded as one of the most important environmental rulings in decades.
Indeed, it could have implications for state challenges to federal statutes in other realms.
In the immediate wake of the announcement, though, the focus is squarely on what it means for future environmental lawmaking as well as enforcement of current laws.
By a 5-to-4 vote, the Court found that the EPA not only had authority to regulate emissions but also had the responsibility to do so.
Lawyers for the Bush administration had argued that the agency did not have the authority to regulate carbon dioxide and other greenhouse gases under theClean Air Act.
A Morale Boost
The Supreme Court's decision provides a morale boost for environmentalists who have been arguing that greenhouse gases and other emissions contribute to global warming, Scott Deatherage, an attorney with Thompson Knight, told the E-Commerce Times.
"It gives environmentalist groups and Congresspeople seeking such legislation a powerful tool," he said.
In practical terms, the ruling will have little immediate effect. The Court ordered the EPA to re-evaluate its decision not to regulate tailpipe emissions and specified that it must link its reasoning more closely to the Clean Air Act.
Ripple Effect
Still, the decision is widely seen as a rebuke against the Bush administration's environmental policies. It is likely to embolden activists and eco-friendly legislators to challenge other relevant facets of the Administration's policies, as well as to draft new green legislation.
The Supreme Court said the EPA could not avoid its obligation to regulate greenhouse gases "based upon impermissible and unsupported policy considerations," noted Kevin J. Poloncarz, a partner in the environmental law department of Farella Braun and Martel.
The Clean Air Act mandates the EPA to set emission standards for "any air pollutant" from motor vehicles that causes or contributes to air pollution that may reasonably be anticipated to endanger public health or welfare, Poloncarz told the E-Commerce Times.
"The Administration had defended EPA's decision not to regulate greenhouse gases by arguing that petitioners could not show a particularized harm or demonstrate that obtaining the requested relief would redress their injury," he noted.
In a decision written by Justice John Paul Stevens, the Court pointed to the risk of rising sea levels in finding that Massachusetts had established a sufficient risk of harm to bring its case, Poloncarz said.
"Further," he continued, "the Court rejected EPA's argument that because reducing automotive emissions in the U.S. would not reverse the trend of global warming — particularly given that any reduction would be eclipsed by projected increases in emissions from developing nations — the petitioners could not establish that the relief they had sought in court would avoid such harm."
Instead, the Court found that it was not necessary to show that regulation would reverse global warming, Poloncarz explained, because "a reduction in domestic emissions would slow the pace of global emissions increases, no matter what happens elsewhere."
Green Light for Emissions Limits
In short, the Court's ruling was a critical win for the green movement and environmentalists who want federal regulation of greenhouse gas emissions, echoed Bruce S. Flushman, environmental and land-use litigation attorney with Wendell, Rosen, Black and Dean.
In simple terms, "the Supreme Court ruled that greenhouse gases are a pollutant under the federal Clean Air Act, and that EPA needs to start rulemaking processes to govern such emissions," he told the E-Commerce Times.
"Even though no specific direction is given to EPA other than to explain its reasons for refusing to regulate GHG other than the EPA's 'laundry list,' the likely outcome will be long, drawn out rule-making establishing some form of emission limits," Flushman predicted.