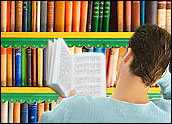 Today's libraries are definitely not the same places where today's senior citizens did their homework after school. Indeed, according to the results from a study conducted by University of Illinois at Urbana-Champaign and the Pew Internet & American Life Project, today's seniors — and even many baby boomers — probably wouldn't recognize half the resources available to patrons.
However, younger generations do. Compared to all other demographic groups, Gen Yers — 18 to 30 years old — are flocking to libraries to take advantage of their tech tools and information lode.
The survey did not set out to study library usage — at least, not directly. Rather, it examined how people went about looking for answers or solutions to several common problems that might involve the government: addressing health issues; making a decision about school enrollment; dealing with a tax matter; getting information about Medicare, Social Security or voter registration; or seeking helping on a local government matter, such as a traffic problem.
The findings supported the researchers' expectations. Survey respondents who had recently confronted such problems took the following actions:
58 percent used the Internet to get help;
53 percent turned to professionals such as doctors, lawyers or financial experts;
45 percent sought out friends and family members for advice and help;
36 percent consulted newspapers and magazines;
34 percent directly contacted a government office or agency;
16 percent consulted television and radio; and
13 percent went to the public library.
The researchers also learned that libraries drew visits by more than half of all Americans — 53 percent — in the past year for all kinds of purposes, not just to seek out answers to certain problems.
Leading the Pack
Generation Y led the pack. Members of this group were also most likely to say they would use libraries for future problem-solving: 40 percent of the Gen Y respondents said they would, compared with just 20 percent of those 30 and older.
Although researchers often have a pretty good idea beforehand of what surveys will reveal, these findings raised a few eyebrows, according to Lee Rainie, director of the Pew Internet & American Life Project, and one of the study's authors.
"Generation Y going to the library … is so counterintuitive to our cultural notion or expectation of this age group," he told TechNewsWorld, "especially considering all the gadgets they have and their expectation of Internet access."
The assumption — now clearly erroneous — was that Gen Yers were so tuned into technology, they would hardly need a library to look up data, he said.
Web 2.0 Tools
The findings reflect libraries' embracement of Web 2.0 technologies, which are the very tools most likely to attract Gen Y users, said Leigh Estabrook, dean and professor emerita at the University of Illinois and coauthor of the report.
"Even in the 1950s, libraries have been early adopters of computer tech," she told TechNewsWorld. "But over the last five to ten years, they have been aggressive in pushing their services to where people are — such as MySpace.com and Second Life."
Librarians have MySpace profiles to answer questions, and the Alliance Library System purchased a virtual island on Second Life to provide library and information services.
"Libraries are going where the Gen Y people are using information resources," Estabrook said.
Generally Successful
The findings did not suggest libraries were the only successful path to enlightenment — or at least a useful answer — when it came to the survey's main focus, which was how people address problems that might be relevant to government activities.
Naturally, people followed different routes to obtain assistance, depending on the type of problem. Those who dealt with a health problem turned to experts first. People with questions about Social Security or Medicare usually went directly to government agencies for help.
The survey found that most people were successful in finding the information they were looking for, no matter what channel they used:
65 percent of those who approached the government for help said they were very successful;
64 percent of those who went to the public library were very successful;
63 percent of those who used the Internet were very successful; and
61 percent of those who consulted professionals and experts were very successful.