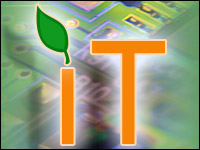 As the decades-old "sustainability" movement goes mainstream, many businesses are looking to software to make the eco-cause concept functional — and profitable — for them.
Companies are facing accountability and responsibility demands regarding their roles in rescuing humanity and saving planet Earth from global warming, climate change, environmental degradation and the exhaustion of basic resources like fossil fuels. The pressure is coming from all sides — national, state and local governments, NGOs (non-governmental organizations) like the United Nations, investors, customers, employees, stakeholders. Corporations are compelled to embrace responsibility initiatives, minimize negative environmental impacts in all facets of their operations and comply with environmental laws … all while increasing profits.
As a result, an emerging "green" software market is giving rise to tools for managing greenhouse gas (GHG) emissions and industrial pollution, air and water consumption, paper waste, energy conservation and regulatory compliance requirements. Companies are looking for sustainability solutions in satellite data crunching programs, simulation software for devising improved materials and processes, and in-field decision support applications. Green tools range all the way from computer-aided design packages that reduce the amounts of construction raw materials needed while improving energy efficiency in finished buildings, to software for controlling and reducing per-sheet paper output on office multifunction peripheral (MFP) devices — printers/copiers/scanners/faxes — used in those buildings.
Carbon Emissions Central
The beating heart of the sustainability software market is carbon emissions accounting — measurement of the amount of carbon dioxide equivalents (CO2e) that will not be released into the atmosphere as a result of mitigation efforts and offsets. Enterprise Carbon Accounting (ECA) software includes tools for carbon uptake monitoring, carbon management self assessment for measuring company offsets, and analysis of energy planning and GHG mitigation.
"Carbon auditing is a hot spot in the software and services market at the moment," Stephen Stokes, an analyst at tech industry consultant AMR Research, told TechNewsWorld. AMR estimates that the market for software and consulting services that let companies collect and report data about carbon emissions has already reached US$3.6 billion.
Moreover, the global market for carbon accounting, collecting data and consulting services is expected to reach $7 billion to $9 billion in two to three years, according to "Enterprise Carbon Accounting: An Analysis of Organizational-Level GHG Reporting and a Review of Emerging GHG Software Products," a June 2009 report released by Groom Energy Solutions.
The ECA market has been validated with the 2009 entry of software giants Computer Associates and Microsoft, as well as SAP's purchase of two-year-old start-up Clear Standards, the Groom Energy report states. The report identified the seven current market leaders as determined by number of customer deployments, technology features, market vision and financial stability: Enviance, ESS, IHS, Johnson Controls, PE International, ProcessMAP and SAP/Clear Standards.
The biggest issue for any software that purports to enable sustainability is that it must be verifiable and auditable, said Larry Goldenhersh, CEO of Carlsbad, Calif.-based Enviance, a provider of Internet-based, on-demand systems for the automation of environmental, health and safety (EHS) compliance activities and GHG tracking and reduction management
"Because carbon data, for example, is not financial data and not a matter of zeros and ones, customers need to trust that the solutions they have in place will be defensible on many levels — regulatory and reputational," Goldenhersh told TechNewsWorld. "Organizations looking to purchase a sustainability software platform need to choose one that has proven results, is built by environmental domain experts and grounded in the physics and chemistry of compliance — especially when it comes to greenhouse gas."
Who Uses the Tools?
Green software tool users permeate all levels of an organization. Information from carbon footprint analysis can be used throughout the entire enterprise, said Groom Energy VP Paul Baier.
"Sales needs the data to reply to RFP and supplier score cards from their top customers," Baier told TechNewsWorld. "Investor relations needs the data to respond to investor and insurance questions. Marketing needs the data to respond to questions from NGOs. EHS needs the data for environmental compliance regulation. Product managers and designers need the data to help improve products. Facilities and manufacturing needs the data to lower the carbon footprint from operations."
In the building design trade, the information produced offers real-time advantages for what Autodesk technical specialist John Boehms calls "green team leaders," as well as the junior staff who work for and report to them.
CAD specialist Autodesk, based in San Rafael, Calif., markets 2-D and 3-D design applications for the manufacturing, building and engineering, and media and entertainment markets. Autodesk provides architects, engineers and designers with 3-D digital modeling tools for both building information modeling (BIM) and digital prototyping processes. The company's Green Building Studio Web service assesses how a building will consume resources, and its Ecotect software measures how the environment will affect a building's performance.
"Of course, the green team leaders — project architects, designers and principals, top corporate level decision makers, even the building owner — utilize this type of technology," said Boehms, an accredited professional in the LEED (Leadership in Energy and Environmental Design) green building rating system.
"Or it may be an intern just out of school who takes design ideas from the project principal and uses these tools to test the strengths of a design," Boehms told TechNewsWorld. "Technology has to provide all the people on a project with guidance on how to get to a better place in terms of the environmental impact of their activities."
Autodesk's Inventor is a set of design tools for creating, visualizing, simulating and optimizing digital prototypes for manufactured products and processes. Sustainable Materials Assistant (SMA) is an Inventor add-in for helping manufacturers make more informed materials choices intended to reduce a product's environmental impact while still meeting performance requirements. The SMA tool offers feedback on material decisions made in Inventor around carbon footprinting, toxicity and regulatory compliance, said Sarah Krasley, Autodesk industry solutions manager.
"While the desktop engineer is the one directly interfacing with the tool, the feedback given by the SMA can inform high-level decisions like materials sourcing, compliance and even how to position the product in the marketplace," Krasley told TechNewsWorld.
Return on Investment
Proof of the value of sustainable software ultimately adds up to more than the money — it's really about how ROI (return on investment) meets the TB (triple bottom line).
ROI — the profit resulting from an investment — was once measured only in economic terms.
TBL means measuring, managing and reporting on social, environmental and economic indicators in tight combination to calculate returns on sustainability investments.
The TBL approach to gauging sustainability ROI is intended to give an organization a broader understanding of its sustainability initiatives so that management can determine proper business strategies for reducing risk and increasing stakeholder value.
Now more than ever, decision makers and executives are viewing environmental, energy and emissions management as a strategic business priority driven by operating and energy efficiency opportunities to the bottom line, according to Chris Farinacci, CMO of Redwood City, Calif.-based Hara.
"In addition to financial incentives with regards to cost cutting, regulatory imperatives and focus on improving brand equity and competitive advantage," Farinacci told TechNewsWorld, "mitigating risks associated with scarce resources and the cost of carbon are also business drivers."
Hara's Environmental and Energy Management (Hara EEM) solution is a Software-as-a-Service (SaaS) application that gives customers auditable transparency and control of the collective resources consumed and expended by the organization, including energy, water, waste, carbon and other resources.
In 2009, the city of Palo Alto, Calif., implemented Hara's system to become one of the first U.S. cities to utilize a formal system for tracking municipal GHG emissions and energy, water and other resource use. The city manages resource use and emissions data for municipal operations across more than 60 city facilities and locations.
"For the first time, individual city departments have regular visibility into energy, water and other resource use and GHG emissions and can track and manage them on a continuous basis," said Karl Van Orsdol, the city's energy risk manager. "Each department has a different carbon emissions profile, so now we have a system for bringing everything together in one place. This allows us to do carbon budgeting around what level of emissions each department needs to reduce, and we can do the tracking to get an overall organizational total."
The city expects to achieve its climate goals and save $300,000 in the current fiscal year. It projects likely savings of $600,000+ annually after first using the new carbon management system broadly across consumption types such as electricity, natural gas and solid waste, Van Orsdol told TechNewsWorld.
Avoiding penalties for non-compliance with environmental regulations is also an ROI consideration.
"ROI varies by customer, but it's common for savings to range from the hundreds of thousands to millions of dollars per year, " said Enviance's Goldenhersh. "When you start to factor in the fines associated with violating regulatory rules, the savings can really skyrocket. The latest EPA rule for GHG could impose up to a $25,000-per-day fine for failure to report. Penalties also range from civil to criminal charges."
Green Marketing Controversy
Achieving high scores for environmental performance is also a marketing strategy for many companies. Being named on prominent lists that track the financial performance of leading sustainability-driven companies (for example, the Dow Jones Sustainability Index, or DJSI) can raise a company's profile with green-minded investors, customers, employees, regulators and other interested parties.
"As many stakeholders become more engaged in environmental issues, the demand for transparency increases," said Hara's Farinacci. "Successful environmental disclosure allows companies to communicate and demonstrate their commitment to sustainability. Our software provides organizations with a comprehensive view of their environmental record — the verifiable information driving their energy and environmental goals and initiatives."
The growing pursuit of enhancing corporate reputations around sustainable development has given rise to a form of corporate self-regulation and business ethics called" Corporate Social Responsibility" (CSR). Commonly described by its promoters as aligning a company's activities with the social, economic and environmental expectations of its stakeholders, CSR has become a multi-billion dollar public relations specialty in the business world. Lists like the DJSI are a cornerstone of CSR, and software plays a part.
Enviance CEO Larry Goldenhersh offers as an example Swiss-based agri-business giant Syngenta, which uses Enviance to help it maintain its high CSR ranking on the Dow Jones Sustainability World Index (DJSI World) and the Dow Jones STOXX Sustainability Index (DJSI STOXX).
"Beginning in 2006, Syngenta deployed the Enviance platform in 37 countries to centrally manage GHG and sustainability emissions data for shareholder and public reporting," Goldenhersh explained. "The Enviance System enables Syngenta to instantly draw upon a centralized, validated database to meet the reporting requirements for multiple indices and protocols, including the DJSI STOXX indexes."
However, the practice of CSR is subject to much debate and criticism. Proponents argue that there is a strong business case for CSR, in that corporations benefit in multiple ways by operating with a perspective broader and longer than their own immediate, short-term profits. Some critics concerned about corporate insincerity and hypocrisy argue that CSR distracts from the fundamental economic role of businesses and simply amounts to superficial window-dressing. Others argue that CSR is an attempt to pre-empt the role of governments as a watchdog over powerful multinational corporations and suggest that better governmental and international regulation and enforcement, rather than voluntary measures, are necessary to ensure that companies behave in a socially responsible manner.