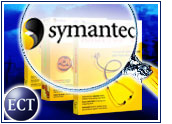 This week, security software developer Symantec announced Norton Antivirus 2004, the newest version of the company's antivirus software. While this product will provide consumers with new kinds of protection against certain emerging nonvirus threats — such as spyware and keystroke-logging programs — what is particularly noteworthy about the announcement is that it marks a major move by the company to combat widespread software piracy.
In April of this year, Symantec said it had added a digital-rights management (DRM) package — also, in the case of software, called product activation — to selected versions of Norton Antivirus 2003, which the company called a pilot program at the time. Now, the company has said it will apply the activation technology across all of its consumer product lines, beginning with the Norton Antivirus 2004 package.
The reason the company is doing product activation is that there is a huge amount of piracy of Symantec products, according to Phil Weiler, spokesperson for Symantec.
"There are some free versions or open-source alternatives for virus software, but I can't fault vendors for going to further lengths to be compensated for their products," Jason Wright, security technologies industry analyst at Frost & Sullivan, told TechNewsWorld. "I think we're embroiled in a similar battle with the RIAA right now."
Field Test
During Symantec's field test of the activation system in April, according to the company, customers downloaded approximately 200,000 copies of Norton Antivirus 2003 with the activation software installed. About 40,000 retail boxed copies of the same software were shipped to stores in the United States, the United Kingdom, Australia and South Africa.
Other companies, such as Microsoft, Intuit, Adobe and Macromedia, all have included DRM software in their products. Usually, they have disclosed the DRM software used and detailed the activation process. In cases where they have not done so, there has typically been a consumer backlash against the technology.
"People don't like product activation," said industry analyst Rob Enderle. "However, vendors can't afford to provide software for free, and piracy has become a significant issue for them."
Say, for example, a user installs the software on an older system, then upgrades to a newer system. Upon installing the software on the new system, the user discovers that the software will no longer work, having already been activated on the other system. Unlike conventional serial-number-protected software — which can easily be moved from system to system — software protected by activation technologies cannot be easily moved.
Then there is the issue of whether antivirus companies have an obligation — as the protectors of the industry — to avoid guarding their software against piracy so that more users will be protected from the latest virus threats.
"I wouldn't say that necessarily security vendors have some higher obligation to allow their technology to be distributed without compensation," said Frost & Sullivan's Wright. "For example, enterprise firewall software vendors wouldn't allow it."
According to Symantec, the product activation technology will be deployed across the company's entire consumer product line, which includes Norton Antivirus, Norton Personal Firewall, GoBack Deluxe, Norton SystemWorks, Norton Ghost, PCanywhere and WinFax Pro.
Inside Tech
In the future, after you purchase and install a new Symantec application, you will have up to 15 days to complete the product activation, much like the system used by Microsoft in its Office 2002 products. The Symantec software will check your hardware configuration, including your hard drive serial number and configuration, plus network and video cards.
On the basis of this information, the wizard will create an alphanumeric code. If the software detects an Internet connection, it will transmit this code to Symantec. Otherwise, the wizard will prompt you to call an automated phone service to complete the activation.
Later, if you upgrade your PC with new hardware or move the software to a new PC, you will have to reactivate the program. According to Symantec, the company will build in the capability for each application to be activated up to five times, which the company contends should be more than enough for most users.
"The problem for Symantec, and every vendor that does this, is that people will move to the vendor that doesn't require activation unless all vendors do it at once," said analyst Enderle. "Or they simply won't upgrade, which is what happened to Intuit and Microsoft."
With antivirus software, said Enderle, the upgrade problem likely will not emerge — primarily because an old antivirus product is nearly worthless. "But it could shift Symantec customers over to products from Trend Micro or McAfee," he told TechNewsWorld.
Antivirus Skinny
DRM issues aside, the new threat-detection capabilities of Norton Antivirus 2004 will include scans for programs on the user's computer that can be used with malicious intent to compromise the security of a system, spy on the user's private data or track users' online behavior.
Norton AntiVirus 2004 will identify and block those threats at the point of entry to the system, detecting the threats during scans of e-mail and instant-message attachments or during scheduled or on-demand system scans.
"With the emergence of recent high-profile security threats like BugBear and Blaster, which are complicated and blended in nature, traditional antivirus solutions are no longer enough to guarantee trouble-free computing," said Steve Cullen, senior vice president of consumer and client product delivery at Symantec.
"The additional protection provided by Norton Antivirus 2004 helps combat spyware and keystroke logging programs, which can be left behind by some of these new blended threats," he said. "Spyware can also be acquired through everyday Web surfing, installing itself in the computer's background."
Norton AntiVirus 2004 also will be offered in a professional edition, which will include all of the capabilities of the standard version as well as additional protection features. Norton AntiVirus 2004 Professional will have both a data-recovery component, which helps users restore files that were damaged or accidentally deleted, and a data-cleaning tool that digitally shreds deliberately deleted files. In addition, to help protect households and home offices with more than one PC, Norton AntiVirus 2004 Professional will include a two-computer license.
Norton AntiVirus 2004 and Norton AntiVirus 2004 Professional will be available for estimated retail prices of US$49.95 and $69.95, respectively. Prices include a one-year subscription to Symantec's protection updates.
In the End
Whether or not the new product activation technology will eat into Symantec's large consumer base remains to be seen.
"The difficult part of all of this," said Enderle, "is the customers that are not payingfor software, don't pay for software, and these efforts seldom have a positive impact on revenue." However, he added, if Symantec aggravates paying customers, those customers move to another vendor, creating a drag on revenue.
"Even Microsoft experienced this drag," said Enderle. "Activation is one of the reasons people list for using OpenOffice and Linux."
In the end, he noted, it might be better to tie the customer to a service that hascost and value directly related to it — like support — rather than force activation for every product. "Sometimes, when you focus too much on trying to prevent theft, you eliminate sales, and that is the real risk of activation."