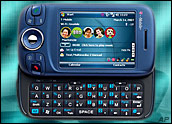 T-Mobile Tuesday became the first U.S. cellular carrier to introduce a device powered by Windows Mobile 6, Microsoft's latest operating system for mobile devices.
The latest offering, called the "Wing," is an upgrade to the company's discontinued MVA smartphone. It is priced at US$299 with a two-year contract.
While Windows Mobile 6 has been available for download into existing smartphones, the Wing is the first unit to hit the market with the new OS already loaded. Windows Mobile 6, launched in February, includes a number of new features such as better e-mail functions and security improvements.
It allows users to read e-mails that come with embedded images and graphics, and it supports Microsoft's instant messaging and Web search programs. The software allows syncing with Windows Live Hotmail and with PCs running on Windows Vista (through a Bluetooth wireless connection).
Business Power Tool
While all new smartphones tend to be compared with the yet-to-be-released Apple iPhone, JupiterResearch mobile device analyst Neil Strother said the new Wing seems to be targeted more for corporate, professional users than for casual, entertainment-oriented consumers. Some of the features found in Windows Mobile 6 are also likely to attract business people, particularly the improved security measures, he said.
For example, the Wing's memory can be erased remotely — through a Microsoft Outlook account — if the device is lost or stolen. The new OS also allows encryption of data stored on removable memory cards. Windows Mobile 6 permits the searching of e-mail and address books stored on company servers.
"It's definitely targeted more for the business type of user," Strother told TechNewsWorld. "It has pretty good security features and that would indicate it is more of a device for corporate users … It has a very productivity and personal information management feel to it."
Hot for Hotspots
Nevertheless, the Wing has some style. About 30 percent smaller than the MVA, it has a 40-key, sliding keyboard, a 2.8-inch touchscreen and — as T-Mobile describes it — "a blue soft-touch exterior … with an eye-catching design and enhanced ease of use."
The device also comes equipped with a 2.0 megapixel, 8X digital zoom camera and a speakerphone. It can capture and replay video and play music files.
One possible shortcoming to T-Mobile is the fact that the carrier, unlike many of its competitors, does not have so-called third-generation (3G) broadband capability. This means uploads and downloads, even on sophisticated devices such as the new Wing, are a bit slower than those possible on other networks.
However, the Wing comes capable of connecting to the Internet wirelessly through the nation's ever-growing population of WiFi hotspots. "T-Mobile is trying to leverage its hotspots and this is a good device for that because it has WiFi," said Strother.
World of Windows
The Wing was developed by High Tech Computer (HTC), a major provider of Microsoft Windows Mobile-based devices. Phones made by HTC that run on Windows Mobile 6 have been sold in Europe for several months.
In addition to its enhanced e-mail capabilities, Windows Mobile 6 improves users' ability to view and edit Microsoft Office documents. It's support of HTML e-mail means users can see and write messages in HTML format with live links to Web sites, support for images, tables and bullets.
"Text and images are displayed as they would be on a PC, whether from their Microsoft Office Outlook and Exchange Server account, from a Web-based account such as Windows Live Hotmail, or from a myriad of other popular service providers," said T-Mobile.
Wing owners will also be able to use all Windows Live services, including Windows Live Messenger, Windows Live Hotmail, Live Search and Windows Live Spaces.
Keep the BlackBerry Devices?
"My general take is, this looks like a nice update to the MVA," said Strother. "For that higher-end user who can afford such a device, it's a good option, especially if they're a Windows Mobile aficionado. I like the fact that it is WiFi enabled."
However, the Wing will probably not cause too much concern at Research in Motion, the makers of BlackBerry devices, he said. Nor will it be considered a competitor to the iPhone. It's not likely to convince customers of T-Mobile's competitors to abandon their plans and switch carriers, either.
"If you're a satisfied Sprint or Verizon customer, you probably wouldn't rush over to T-Mobile just for this device," said Strother, who said the real question is whether that phenomenon will follow next month's release of the much-hyped iPhone.