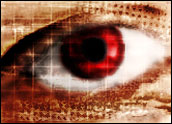 Society is starting to open its eyes to the prevalence of online predators who lurk in cyberspace looking to befriend willing young Web surfers. Still, many of the organizations working to spread awareness worry that people are realizing the dangers too late.
Instead of working proactively with these groups or using their resources to research the problem for themselves, most parents are learning about it through news stories on sting operations in which deputies pose as teenagers online, Jeff Powell, executive director of the National Child Safety Foundation, told TechNewsWorld.
The "teen" starts a relationship with someone and invites the predator to a house where police are waiting to make an arrest.
If that deputy were actually a teenager, the predator would be successful, Powell said. "We empower the parents through knowledge [before that happens]," he said.
Speaking the Lingo
Today's youth speak their own lingo. As if it weren't difficult enough to keep track of the words coming out of their mouths, they complicate things by adopting a completely different language online when they send their "buddies" instant messages with various acronyms.
A survey commissioned by Cox Communications and the National Center for Missing and Exploited Children in 2005 found that 95 percent of parents couldn't identify common chat room lingo that teenagers use to warn people that their parents are watching, such as POS (Parent Over Shoulder) and P911 (Parent Alert). Ninety-two percent did not know A/S/L (Age/Sex/Location).
Parents may be resigned to their children's need for secrecy, but they increasingly are realizing that the "buddies" with whom they confide aren't necessarily the kids next door and could very well pose as much — if not more — of a threat as a stranger on the street. The study showed that 28 percent of parents don't know or are not sure whether their teens talk to strangers online.
Parents were only slightly concerned about the issue of online safety, found research by the Advertising Council. They were more worried about things like pregnancy and drugs and not "as aware of the [dangerous] world of the Web, and the pervasiveness of the issues, and the vulnerability of their children as potential victims," Ellyn Fisher, director of corporate communications for the Advertising Council, told TechNewsWorld.
In general, parents say they are more vigilant about where their teens go online if the computer is in a public area. Still, 30 percent of parents allow their teens to use the computer in private areas of the house such as a bedroom, based on the study.
Prevalence of the Problem
Meanwhile, statistics show that one in five youth ages 10 to 17 who go online are solicited, and one in four are exposed to pornographic videos.
What's even scarier is that one in 33 youths who go online receive an "aggressive" solicitation of a gift in the mail or a phone call. "Those are the predecessors of meeting in real life," Staca Urie, manager of outreach for Netsmartz workshop, told TechNewsWorld.
Netsmartz partners with schools throughout the nation to create awareness programs and hold assembly-style presentations in which it provides vignettes base on real scenarios.
"We give them a realistic view of the voice and input of a teen who's actually been influenced to help them understand the consequences of risky online behavior," Urie said.
"We've found teens learn from other teens. The conversation has to start before the sexual solicitation can start. Don't give out personal information. Lay the ground rules."
For example, one video clip provided for older youth features a 13-year-old girl, Julie, talking about how she met a 56-year-old man online and ran away with him for three weeks. It turns out the man is a convicted murderer.
Her voice is cracking as she tells the story of how the relationship progressed from friends to a more personal exchange — and how now he's going to be in jail for 25 years. "He sent a letter to me saying it was my fault, and he was going to kill me if he ever got out of jail," she says. "The Internet [is] a tool that has to be used properly. It's like a knife. It's very helpful, but it can also cut you. I didn't think of his background, and I didn't apply it to myself. He could've done anything to me — even killed me."
Teens believe they would know if a stranger was trying to seduce them, Urie said. However, the solicitation doesn't always come across that clearly.
"You might get that false sense of security, but after a few days you might feel more comfortable with that person," Urie said. "Expand your perspective to understand people you meet in the real world are different from people you meet on the Internet after you talk to them. Time doesn't equal trust when it comes to the Internet. You may not consider them a stranger — but that doesn't mean they're a friend."
Girls, in particular, tend to be overly trusting and believe the myth that it can lead to a good relationship, she noted. "It shows how a predator can really prey on their insecurity."
Part 1: "The Growing Cancer of Child Sexual Exploitation on the Web."
Part 3: Arming Kids Against Sexual Predators on the Net