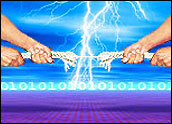 The tech industry is making strides in developing supply chains and products that are free of conflict minerals from eastern Congo, although for some companies, progress still needs to be made, according to a report by Enough, the project to end genocide and crimes against humanity.
For the second year, it ranked companies according to their performance in this area in a report called "Taking Conflict Out of Consumer Gadgets: Company Rankings on Conflict Minerals 2012."
Four electronics companies — Intel, HP, Motorola Solutions and Apple — have established conflict minerals programs that should be models for the rest of the industry, according to the report.
The next tier of companies — SanDisk, Philips, Sony, Panasonic, RIM and AMD — have significantly improved their conflict-free efforts through such activities as tracing back into their supply chains, piloting due diligence, and joining a smelter audit program.
Lowest on the list is Nintendo, which has yet to make any known effort to trace or audit its supply chain, according to Enough.
"Following legislation passed a year-and-a-half ago and a growing consumer movement that includes more than 100 university campuses, leading electronics companies have read the writing on the wall and got out in front of this important issue of conflict minerals," Sasha Lezhnev, Enough senior policy analyst and co-author of the report, told TechNewsWorld.
A lot of progress still needs to be made, he said, but what has occurred so far is very heartening.
A History of Pain
Conflict minerals include tin, tantalum, tungsten, and gold — essential components in electronic as well as in other products. These minerals can be found in the Congo region as well as other parts of the world. Profits from the export of Congolese minerals typically fund armed groups in the eastern part of the country, which has been devastated by a war that so far has claimed 5.4 million lives — hence the name "conflict minerals."
A year-and-a-half ago, the Dodd Frank financial reform legislation passed in the U.S. with a provision requiring companies to trace and audit certain minerals to ascertain their sources. If they were coming from the Congo, companies would have to submit a conflict minerals report, including such information as the trade route and which mine the minerals were taken from.
"It is not an import ban," Lezhnev said. "A U.S. company can source directly from the rebels if they want — they just have to report it under Dodd Frank."
Many parts of Dodd-Frank have been languishing ever since it was passed, though, waiting for the rule-writing stage, and the conflict minerals disclosure requirement has been one of them. That will change on Aug. 22, when the Securities and Exchange Commission takes up this provision along with a few others to write the rules.
"There are a number of different options for the rules," Lezhnev explained. "Retailers and jewelers and mining companies may or may not be included. Some industry lobbyists have actually called for an open-ended phase-in period."
Progress Has Been Made
What is heartening is the lead the top electronics companies are taking with this issue even without rules in place, said Lezhnev. It is doubtful these firms would backtrack if the SEC were to write broad regulations — but it wouldn't be fair for the rest of the industry.
"Microsoft, GE and Panasonic, just to give one example, are taking a strong stand by rebuking the Chamber of Commerce for threatening to sue the SEC over these rules," Lezhnev pointed out. "If the SEC writes weak rules, these companies and others, such as HP and Intel, "will be carrying the rest of the industry's water."
The Specter of Public Opinion
It is not likely that mainstream consumers will rise up and demand change if the SEC does write watered-down rules, David Johnson, principal with Strategic Vision, told TechNewsWorld.
"This is not something on most people's radars, unless you are a tech geek or a college student," he remarked. Or a financial analyst.
"Financial analysts are looking closely at this issue because the rules will have an impact no matter how loose they are," noted Johnson. "Right now, I would say the financial analyst market is probably a more important PR target for a group like the Enough project than the mainstream public."