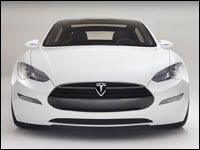 Tesla Motors — a Silicon Valley startup backed by entrepreneur Elon Musk, the South Africa-born cofounder of PayPal — is making plans to roll out its second electric car. The company has released the details of its Tesla Model S.
While production is, at best, two-and-a-half years away, car enthusiasts are gobbling up the specs.
"If it does come out as promised — even at its big price point — it will still be quite a feat, Brian Gluckman, manager of media relations at AutoTrader.com, told TechNewsWorld.
The Model S is promising a 300-mile range — this is not just an about-town commuting car — and the ability to recharge the battery within 45 minutes. The Roadster, the first car Tesla produced, took several hours to recharge.
Mitsubishi, Mercedes-Benz, BMW, Nissan, Ford and Hyundai are all developing electric vehicles with production scheduled for 2011. However, those vehicles, Gluckman pointed out, only have ranges of about 100 miles. Even the Ford's electric Focus is just a compact sedan, he said.
The Model S is also much larger, making it possible for a family to consider it.
Question Marks
The initial downside of the car is its cost: US$49,000 after a $7,500 federal tax credit for electric vehicles. It doesn't end there, though.
"The Tesla is a nice-looking vehicle, and I hope it succeeds — I am definitely sitting in its cheering section," Edmunds' GreenCarAdvisor.com Editor John O'Dell told TechNewsWorld.
Unfortunately, there are challenges confronting it, he said — some ofwhich may well block its production.
Funding, which is a dicey and sensitive subject among automakers now, is themajor question mark. The company is hoping to land about $350 million in low-cost federal funding for the project, O'Dell said. "Everything they have done and planned for to date is predicated on getting federal loans."
Tesla also has to worry about the automotive industry's supply chain, which is almost as beleaguered as the big three automakers are by the recession and credit crunch. The Tesla's chassis was built from the ground up specifically for this car, O'Dell said. "What that means is that they will have to count on the continued existence of the automotive supply chain in the U.S. to provide the parts they need."
Better Performance?
Assuming it gets to that stage, Tesla will then have to worry about competition. "It will be butting heads with billion-dollar companies like Toyota and GM, and products like plug-ins, hybrids and other pure electric cars," noted O'Dell.
Tesla's Model S does not stack up well against other green alternatives, said Rob Enderle, principal analyst for the Enderle Group. The Fisker, for instance, "is a more interesting automobile," Enderle told TechNewsWorld, "and for less money, gives you more car."
Nissan will be launching an electronic car in the U.S.next year, GreenCarAdvisor's O'Dell said. "I will presume it will be cheaper, although it may be different enough that it won't be competitive to the Tesla."
Or maybe not. "As much as they give lip service to the concept of competition, none of these guys likes it," O'Dell continued, "so if GM or Toyota can figure out a way to crush the Tesla, they will do it."
Evolving Technology
Perhaps most importantly, electric car technology is still evolving — and must be proven to consumers. Batteries are one of the biggest tech challenges that all electric cars face, Autotrader.com's Gluckman pointed out.
The new Li-Ion and Li-Polymer batteries that will be used in such cars as the forthcoming Chevrolet Volt — as well as Tesla's electrically powered Roadster — are expensive and difficult to keep cool, he noted.
The new battery in the Model S is based on the Roadster battery, according to Tesla. It's attached to a new rear-wheel-drive and all-wheel-drive-capable platform that was also designed in-house.
"Developing such a platform, however, is no small endeavor in terms of either effort or money," commented Gluckman. "Hyundai, for example, probably spent aboutfive years developing the new RWD platform underpinning its new Genesis sedan and coupe."
For a startup like Tesla to be able to move this vehicle from conception to reality in less than three years, Gluckman concluded, "would be quite a massive accomplishment, especially considering their current economic situation."