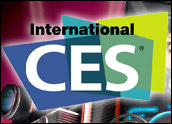 As the Consumer Electronics Show in Las Vegas continued on Friday and through the weekend, it became clear that the official attendance count at this year's gadget fest will likely reflect significant shrinkage.
In addition, runaway hits — things that really managed to shake the ground everyone was walking on — seemed few and far between. Thin TVs? They look cool, I suppose, but they don't really give anyone a completely revolutionary couch potato experience.
Cameras with massive amounts of built-in memory? Convenient, nice, useful, practical, and absolutely unsurprising.
Putting a touchscreen on everything in the catalog? Well, people love their touchscreens, so that's a smart enough move, but what about a glossy touchscreen that resists smudging, or advanced haptics that really make you feel the keys displayed on the screen?
Inside the Glass
That's not to say there were no interesting toys to be found. As the show progressed, attendees got the chance to circulate more, tell more stories to each other, and exchange more "have you seen that thing over there yet?" moments. I headed over to Intel's outpost on a recommendation to look at a glass computer display that I was told came straight out of "Minority Report."
The setup was designed to show off Intel's Core i7 processor by displaying an architectural model of a home on a giant, doorway-sized glass touchscreen and letting passersby move the image around and zoom in and out at a high rate of frames per second (500, 600 … I swear it broke 700 at one point). The glass is transparent — the image inside, which actually comes from a projector mounted above, appears to glow within.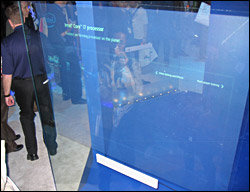 It was an interesting way to show off something as techy as a computer chip, and it got people interested — there was a decent crowd around the booth. A company called "Foghorn Creative" helped develop the display, and it was designed solely with the intention of showcasing an Intel product. Don Richards, creative director at Foghorn, told me he's heard a lot of ideas about how to apply the display method to all sorts of tasks: Doctors want to use it as an MRI display, retail reps are asking if they can get one for their stores, etc.
"We've been getting a lot of business cards," he said, though he didn't say whether any specific plans were in the making
Pocket PCs
Intel's spread also had a corner devoted to its Atom processor, the engine inside a lot of the netbooks now on the market. Atom is also finding its way into a category I think is just a little weird — the mobile Internet device (MID).
MIDs are too big to be smartphones, and it's rare to see one with phone capabilities anyway. They're also too small to have the kind of input hardware PC users are used to — the keys are minuscule, and don't expect a touchpad. Some have slide-out keyboards that have you thumbing the buttons; others fold out like a notebook, but home-row typing like they taught you in grade school isn't going to happen unless your hands are really tiny.
So who uses a MID? Not people who merely need Web access anywhere. Any number of smartphones can handle that. MIDs — the kind with memory and power close to that of a low-cost laptop — are more desirable to people who need a full-bodied computer they can literally stuff into a (fairly roomy) pocket. They need real applications and features beyond a Web browser: a full office suite, a familiar filing system, etc.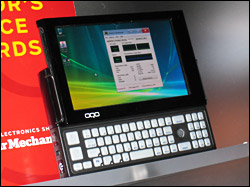 OQO unveiled its latest, the Model 2+, and had units at Intel's booth, as well as at Qualcomm's and Motorola's. It's about the size of a paperback book and has a 5-inch touchscreen as well as a slide-out keypad. Moving the cursor can be done with a nub on the keypad.
Two models are coming out in the first half of this year. The 1.33 GHz Model 2+ (US$999) has 1 GB of RAM and comes with Windows XP Home and a 60 GB hard drive. It'll be followed by the 1.86 GHz model with 2 GB RAM ($1,499), a 120 GB hard drive, and a choice of Vista Business or XP Professional. The 2 GB model also features an OLED (organic light-emitting diode) screen. Both have 802.11a, b and g WiFi, as well as Bluetooth, capabilities. The 1.86 GHz model can be outfitted with an embedded 3G Gobi Global Mobile Internet system for world travelers ($149) and a 60 GB solid-state drive ($700).
You can also get a docking station that will attach an optical drive, a monitor, a keyboard and a mouse. Drop it in to use the Model 2+ as a full-fledged desktop PC, then grab it and go if you need to get moving.
I was a little off balance picking up the Model 2+ for the first time. The cursor was hard to aim with the keypad nub, and my fingers were too fat to do anything right on the touchscreen. A few adjustments from an OQO rep made things better. Typing might take some getting used to — it's still too small to do traditional typing and it felt wider than a smartphone, though anyone used to thumb typing should be able to pick it up.
3-D Gaming
Nvidia was trying to make the rock star experience just a little more realistic with a trick it demoed using a "Guitar Hero" setup. The company's 3D Vision brings 3-D imagery to PC games, and you don't necessarily have to buy any new titles to make it work. Nvidia has certified 350 pre-existing games, including "Mirror's Edge" and "World of Warcraft: Wrath of the Lich King," to work using its 3-D setup.
Nvidia's rep explained that games built on the DirectX 10 API (application programming interface) already have depth-of-field data built in. The product's combination of software and hardware just uses that information to render the image in 3-D.
The glasses you wear to use 3D Vision aren't the cheapo thingies they pass out at the movie theater. The two lenses shutter at 60 Hz, and an infrared emitter attached to the PC syncs the shuttering of the glasses with the alternating images on the screen. What your brain registers is a 3-D view. Combine this with a creepy game like "Dead Space" late at night, and you'll have yourself a nice little coronary.
The setup comes with software, the glasses and the IR emitter. You don't necessarily have to gut your PC and install a new graphics card, but Nvidia recommends a GeForce 8 card or higher. It's available now at $199.
The Next N
Nokia brought out a prototype of the N97 Symbian-based smartphone it announced last month. It was being carefully guarded by a guy who not only had it tied to his waist, but also had to be in physical contact with it at all times, even when gawkers were poking at it.
The N97 is a touchscreen handset with a slide-out keypad. When the pad is slid out, the screen tilts up 35 degrees. Nokia said that's done to reduce glare and make for more comfortable viewing if you set it on a table.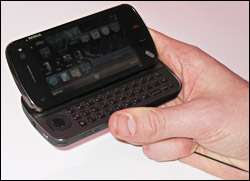 The user interface is customizable, but the model on the show floor wasn't running a finalized version of the software, so response time seemed slow. The keypad sets the space key off to the side rather than the center of the bottom row, making typing feel a little off at times.
The phone's face is a touchscreen with a 16:9 aspect ratio for widescreen video viewing. It's a very narrow phone — Nokia said that makes for easier one-thumb control. It's also got a whole lot of internal memory: 32 GB built-in, and another 16 GB if you throw in an SD card.
Like its predecessor N95, the N97 sports a 5 megapixel Carl Zeiss lens. It also has an integrated compass to aid the navigation system.
Plans for the N97 are clearer in Europe than in the U.S. It will be available in the first half of '09 for 550 euros; stateside, no price, carrier or dates have been set.