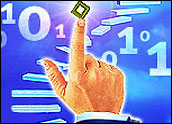 Transmeta has announced it is on track to release its newest processor, the TM8000, this fall. The company is aiming the new processor, codenamed "Astro," at mainstream notebook computers and a wide range of portable power- and heat-sensitive form factors.
The new chip represents a dramatic change in architecture for the Santa Clara, California-based company.
"The architecture has been re-engineered for a faster core," Gartner research fellow Martin Reynolds told TechNewsWorld. "What this means is Transmeta can scale the clock speed faster; they were running out of room with their old design."
Big Step Forward
Reynolds said that by incorporating a wider clock – which will be able to execute as many as eight instructions per cycle, rather than the earlier generation's four instructions per cycle – and by giving the TM8000 faster buses for memory and graphics, Transmeta has taken its chip to a new level.
"They've really sort of opened up everything and taken the entire chip forward," he said.
Transmeta president and CEO Matthew Perry said the new chip will be able to run typical real-world applications about 50 percent faster per clock cycle than previous Transmeta processors. Multimedia applications will run as much as 80 percent faster per clock cycle.
Faster Features
According to Transmeta director of marketing Mike DeNeffe, the TM8000's new architecture includes an upgraded component, called Northbridge, that links the processor more quickly to system memory; a high-speed, chip-to-chip connectivity component, called HyperTransport, designed to speed data flow; a new Double Data Rate (DDR) interface; and a new 4X AGP graphics interface.
"Add those [components] together, and [they give] you a better interface with the surrounding chips that go with the TM8000 chip itself," DeNeffe told TechNewsWorld.
Transmeta, which indicated production of the TM8000 is on schedule to start in the third quarter of this year, said it will disclose more information about the new chip in coming months.
Targeting Form Factor
Reynolds said he expects Astro to find its way into small, mobile form factors – such as tablet PCs – where energy efficiency and low heat are more important than performance.
"Transmeta really plays well where performance is less of an issue [than] form factor is," he said.
However, he added, Intel's mobile Pentium M and Centrino processors are putting pressure on Transmeta to increase performance and fit the needs of smaller, mobile devices.
Graphics Gain
IDC senior analyst Shane Rau, who said the new TM8000 chip will compete with Intel's Pentium M and AMD's Athlon XP-M mobile processors, told TechNewsWorld that the TM8000's support for AGP will bring the graphics capabilities of Transmeta-based systems up to par with other systems.
"The support of previous Transmeta processors for PCI only limited Transmeta to the ultraportable notebook PC market," Rau said. "AGP will give them a shot at the thin-and-light notebook PC market."
Beyond Ultraportable
While Transmeta traditionally has focused on small form factors with low power consumption and heat requirements, Perry said the company expects the higher clock speed and improved efficiency of the TM8000 will expand the company's market share.
Meanwhile, Transmeta's DeNeffe said the company hopes to migrate upstream from its current niche of 10-inch-and-under notebooks to standard-size offerings. He also said Transmeta is targeting less mobile segments, such as thin-client applications that do not require cooling fans.
"We feel this is a market that will grow pretty rapidly," DeNeffe said, adding that Transmeta also will aim Astro at home server applications, including gateway and media servers.