Pushback against the deployment at airports of digital image scanners that show people's naked images through their clothes is gaining steam, bolstered by the Electronic Privacy Information Center's publication of government documents obtained under the Freedom of Information Act.
The U.S. Department of Homeland Security papers suggest the Transportation Security Administration overstated the privacy protections travelers subjected to the scanners would have.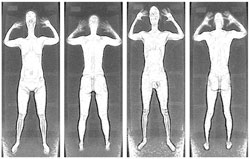 Backscatter technology produces images that resemble chalk etchings. They are viewed by transportation security officers in remote, secure locations, according to TSA.
(click image to enlarge)
In the Right Mode?
Contrary to TSA's claims, the controversial backscatter scanners are able to store and send images, according to the documents EPIC obtained. There are 10 variable privacy settings on the device, which presumably can be dialed up or down at the point of operation with the required access code.
The documents show that the devices come equipped with hard disk storage, USB integration and Ethernet connectivity, which would allow storage and transmission of images. The devices are based on Windows XP technology, which means they could be vulnerable to hacking and tampering by external parties.
TSA is not providing interviews on this subject, spokesperson Sterling Payne told TechNewsWorld, but it did provide a prepared statement.
The agency contends that while these devices do show detailed outlines of bodies, there are significant safeguards in place to make sure the technology is not abused. For starters, the TSA employee viewing the images is supposed to be sequestered away from the traveler in question. The TSA maintains the devices are not able to store or send images.
TSA's arguments are disingenuous at best, EPIC Executive Director Marc Rotenberg told TechNewsWorld. "It claims that it can only store or transmit images in 'test mode' which suggest to people that it is permanently disabled."
Clearly, the privacy filters that limit "test mode" — or as EPIC calls it, "super user mode" — can be disabled in the field by a TSA worker with a super user password, Rotenberg said.
The protections TSA has described — that is, keeping the machines permanently out of test mode — "seem improbable," Rotenberg concluded.
Debunking Security Claims
The documents also call into question TSA's argument that full body image scanning technology is necessary to keep travelers safe, maintained Rotenberg.
"The specs for the devices say that they can detect explosives, weapon and liquids — but they don't list powders," he pointed out.
Powder was the substance used in the attempted airplane attack by Richard Reid, the so-called shoe bomber, in 2001. Powder was also involved when Umar Farouk Abdulmutallab allegedly attempted to blow up a plane on Christmas day.
"TSA has said that they could see the container in which the powder is stored but even that is not necessarily a safeguard," Rotenberg said.
Health Issues
Critics are also objecting to the machines due to the possible health ramifications of being exposed to small doses of radiation. Many of the scanning machines deliver a dose of ionizing radiation, reportedly equivalent to 1 percent or less of the radiation in a dental Xray. Others, typically used abroad, use different technology that delivers non-ionizing radiation and is seen as less problematic.
The health risks are on the minds of a lot of travelers, according to Kate Hanni, founder of FlyersRights.org.
"I am being emailed by people with compromised health who have been told by doctors that they can't go through the body scanners, which means they must submit to an intrusive full body pat down," she said.
Members are also anxious about the privacy violations of the full body scanners, she said, citing a record 1,200 emails she received on one day about the issue.
"I have received emails from elderly men who are afraid their adult diapers will be picked up in the images and they will be pulled aside for questioning," said Hanni.
There is no assurance that the devices will do what they are supposed to do, she said, which is prevent the smuggling of explosive materials. "For all those reasons, we are adamantly against implementing them."