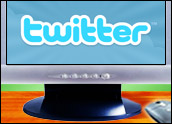 Twitter has announced it will be rolling out @anywhere, a new platform that will allow certain partner Web sites — including Amazon, Bing, Citysearch, Digg and eBay — to link to Twitter.
The new service will let Twitter users send and receive messages while they are on a partner site. It will also allow users to follow a string of related tweets without leaving the site. The idea behind the service is to allow partners to better integrate their own conversations and product positioning with Twitter.
The @anywhere functionality can be implemented with a few lines of Javascript code.
Twitter CEO Evan Williams announced the @anywhere platform during his keynote address at the South by Southwest interactive conference under way in Austin this week.
'Our Open Technology Platform'
The company elaborated on it in a blog post, although it didn't provide a timeframe for rollout.
The post provided examples of how @anywhere could be used: following a New York Times journalist via her byline, tweeting about a video without leaving YouTube, or discovering new Twitter accounts on the Yahoo homepage.
Besides Amazon, Bing, Citysearch, Digg and eBay, initial participating sites include AdAge, The Huffington Post, Meebo, MSNBC.com, The New York Times, Salesforce.com, Yahoo and YouTube.
The Facebook Connect Model
Twitter's new feature is being likened to Facebook Connect — a set of APIs that allow Facebook members to log onto third-party Web sites, applications, mobile devices and gaming systems with their Facebook identity.
Like Facebook Connect, @anywhere will break down communication barriers across the various social media sites and portals people frequent, Rob Ungar, an account executive at Widmeyer Communications, told TechNewsWorld.
"It's going to make it easier to keep the conversation going rather than having to manage so many different identities to engage around a piece of content," Ungar said. "Right now, people can make comments on one site, of course, but they have to repost on Twitter. This will make it easier for people to share content and promote a dialogue, which is something that Twitter is very good at."
If it's integrated with blogging sites like WordPress or Blogger, @anywhere will ratchet up the "intra-site" dialogue that much more, he added.
Plus for Marketing
The new service will also assist marketers in building a brand or promoting a product, Nichole Goodyear, CEO of Brickfish, told TechNewsWorld. "It will have the ability to bring people into a conversation about something they might otherwise not be aware of."
Consider a product review posted on Amazon, for example.
"Studies have shown people tend to buy products that are recommended by friends or people they know," said Goodyear. "Reading tweets about a product review that links to the actual page would facilitate sales of the product."