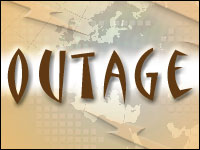 Twitter was unavailable to users for significant portions of the day on Thursday. Contrary to speculation, it wasn't due to a hack attack, despite attempts by some groups to claim responsibility.
Rather, a "cascading bug" in one of its infrastructure components was the cause for the upheaval, Twitter said.
A cascading bug is a bug whose impact isn't confined to a particular software element, but rather "cascades" into other elements as well. Such a glitch can quickly affect all users, even on a global basis.
As soon as Twitter discovered the bug, it rolled back to a previous stable version of the site to restore service.
Fail Whale Again?
It was a rare fail for Twitter — these days, at least. The event may have been limited to a 24-hour period, give or take, but it was long enough to remind users of Twitter's early, less reliable days.
Perhaps for that reason Twitter took pains to point out that over the past six months it has registered its best performance in site reliability and stability ever — at least 99.96 percent and often 99.99 percent.
The days of regular "fail whales" seem to be over, Graham Cluley, senior technology consultant with Sophos, told TechNewsWorld, and for that reason, this event will likely fade into the background in short order.
"Although there were claims by some hacking groups to be responsible for the outage, it appears those claims are baseless and just typical attention-seeking," he said. "Instead, it sounds like this was a fairly down-to-earth failure on Twitter's part — only they will know the precise details of what occurred, and they haven't gone into much detail."
More Questions
That lack of detail is contributing to ongoing concerns, however. Twitter has a global presence and huge user base that has come to rely on the service. More to the point, Twitter is working hard to build out the number of brands that advertise on its site.
Mysterious outages are not likely to help woo digital ad dollars to Twitter, security consultantRobert Siciliano, told TechNewsWorld, adding that this was likely not an isolated issue.
"What is known about what happened is what Twitter wants the public, including the investors, to know," he said — namely that there is a correctable problem that Twitter has a handle on.
However, a 'cascading bug' isn't actually a bug, but a series of events causing outages, Siciliano explained.
"A DDOS may be just one part of that perfect storm of issues," he said.