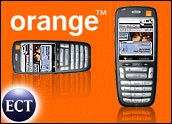 Consumers are seeing more television on their mobile phones as another company rolls out a mobile handset service, most recently from UK provider Orange, which will offer customers there top TV shows and channels, such as Cartoon Network and CNN, for a monthly subscription.
The service, which is third-generation (3G) wireless but still a streaming service, will reportedly be offered on Nokia 6680 handsets that can carry a total of nine channels, with a cap on the mobile TV time. Orange, which joins other wireless carriers including Cingular, Sprint and Verizon, indicated it would add to the channel lineup soon.
Although some analysts are skeptical of the market for such services — indicating content and cost limitations may hold the technology back — others indicated specialized content, such as the 24-hour streaming of popular British shows "Big Brother" and "Celebrity Love Island" may be able to create a consumer market for the mobile TV.
Seeing a Market
"Absolutely I think there's a market for this," Ovum vice president of wireless telecoms Roger Entner told TechNewsWorld. "In particular, because the cell phone is turning into this multi-purpose device and helping us to fill in the white space in our lives. When you are waiting for the bus, you won't be looking up in the clouds, you'll be glued to your handset."
Forrester analyst Charles Golvin told TechNewsWorld there are actually two types of mobile television: mobile network unicasting, or streaming; and more advanced broadcasting, which which will use network advances to improve video quality to "TV on your mobile phone."
"I think there is a market for both, but the content that makes sense in these environments are different," he said.
Golvin added the the price of such services, particularly the less-specialized content, will have to be quite low.
TV in Hand
Golvin said another key to mobile television's success will be how quickly carriers can get video-capable handsets into the hands of consumers, something that may be made easier by the traditional ease-of-use of television.
"It requires little explanation," he said. "It will be more incumbent upon on the carriers to get mainstream handsets into this," he said, instead of higher-end devices that typically accompany such services.
Clicking with Consumers?
Others were more skeptical of Orange's and other carriers' efforts to provide video and television services for mobile handsets. Gartner analyst Michael King told TechNewsWorld despite rollouts in Korea, Japan and the U.S., the TV services for phones are not catching on with users.
"We're seeing a lot of announcements," he said. "We're just not seeing adoption."
The analyst indicated that despite the ability to overcome technical hurdles, the market is by no means clamoring for TV on the mobile phone just yet, and providing sufficient content is a challenge.
"I'm not real convinced that there is a mobile TV marketplace," he said. "There just isn't a big demand for it."