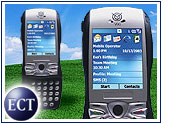 Sierra Wireless has announced a new line of phones that will use Microsoft's Windows Mobile operating system. The first of the Voq line of phones, which will include a flip-open computer-style thumbpad for text entry, is expected to become available in 2004, providing "compelling voice and data functionality in a single, pocketable device," Sierra Wireless said Wednesday.
The Voq phones, which will use Microsoft's Smartphone software — a phone-oriented version of the Windows Mobile operating system — also will include hardware and software innovations for information navigation and retrieval, text entry and e-mail access. The first Voq model will support global markets by operating over GSM and GPRS wireless networks and is planned for commercial availability in the first half of 2004.
News of Sierra's Voq partnership with Microsoft, anticipated by some observers, sent Sierra's stock flying. The stock started to climb earlier this week when rumors of the Microsoft deal and impending Voq launch started to emerge. Sierra shares have soared over 270 percent this year alone and set several new highs this week.
"Sierra Wireless is in a great position to succeed in the Smartphone market, from their strong background in wireless data to their established relationships with wireless carriers," said Roberta Wiggins, director of wireless and mobile services at the Yankee Group. "Our research points to an upcoming spike in the adoption of smartphones."
Windows Mobile
While the Microsoft smartphone partnerships are still few and far between, major wireless providers, most notably Motorola, have begun to adopt the platform for their high-end phones. All Windows Mobile-based smartphones have color screens small enough to fit on a compact phone yet big enough to read e-mail, view images and browse the Web.
The Windows smartphones offer personal information management applications in addition to e-mail synchronization capabilities through Outlook, Web browsing through Pocket Internet Explorer, instant-messaging capabilities with MSN Messenger, and even the ability to listen to music and play video with a micro version of Windows Media Player.
The smartphone also will let users send multiple types of messages. For example, you can send a text message as an e-mail to one person and as an SMS message to another. If one of the recipients cannot receive an SMS message but can receive e-mail, the smartphone will know to send the text message in e-mail format.
VPN on the Phone
The new Sierra Voq phone will have a 200-MHz Intel PXA262 processor, a 12-key dial-pad and a flip-open QWERTY thumbpad for text entry. According to Sierra, the Voq will offer secure access to automatically updated e-mail and will require no desktop redirector or dedicated server. The Voq's e-mail software will support standard enterprise e-mail systems, including Microsoft Exchange, Lotus Notes and Novell Groupwise.
According to the company, the Voq phones also eventually will support software upgrade options to offer more advanced e-mail functionality and compatibility with corporate virtual private networking. Developing these capabilities, according to Sierra, has been the result of extensive market research on the communications needs of mobile professionals.
While the phones do use Microsoft's platform, Sierra has applied for patent protection to cover the unique hardware and software combination it has developed in the Voq product line.
Global Network
"Sierra Wireless has expertise in providing wireless data solutions for business users, and we're pleased to welcome their new handset based on our Windows Mobile software," said Juha Christensen, corporate vice president of the mobile devices division at Microsoft.
The company has an existing global network of wireless operators and corporate technology channels, and it expects to take Voq to market under cobranding arrangements with some of these channels. The company also expects Voq hardware and software products to be in network-operator and user-testing programs in Europe and North America by the first quarter of 2004.
In addition to working closely with Microsoft and Intel, Sierra Wireless is partnering with Flextronics International, a wireless handset manufacturer, to manufacture Voq products.
"Sierra Wireless has done a great job creating a family of computing and communications devices with very innovative designs," said Ron Smith, senior vice president and general manager of Intel's wireless communications and computing group.