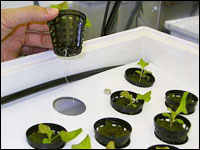 The farm has moved to the city in the form of rooftop hydroponic greenhouses, leaving the dirt and pests and pesticides behind in the rural field and going high-tech with a penthouse view from perches atop old buildings.
Restaurants, converted factories and warehouses, government facilities, the stores of mass retailers, apartment complexes — a wide variety of buildings in major metropolitan burgs like New York City are starting to sprout the latest in climate-controlled, glass-enclosed structures framed with aluminum or galvanized steel. These computerized "urban agriculture" tools are used for growing fresh, lush vegetables, fruits, herbs, flowers and other kinds of tender or out-of-season plants that require soil-free environments with regulated humidity and ventilation and special temperature conditions for protection against excessive cold and heat.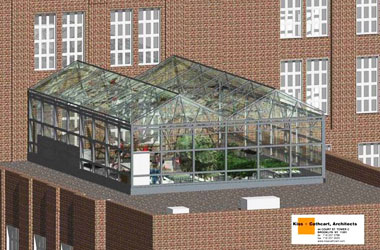 BrightFarm Systems has been commissioned to design an environmental education center and local food production facility on the roof of the Manhattan School for Children in New York City.
Rooftop hydroponic greenhouse gardens have emerged in cities because urban areas often lack space on the ground for gardening — the world's most popular hobby. Where there is free space suitable for gardening, development and building is not far behind due to the commercial opportunities presented.
New York City-based BrightFarm Systems is a commercial design consultancy firm that provides technical services and project planning in support of rooftop greenhouses and "building-integrated" agriculture. BrightFarm has projects underway to put commercial hydroponic greenhouses on the rooftops of a church in Jamaica, Queens area of New York (set to open this summer), as well as the Manhattan School for Children on the Upper West Side and an environmental learning center at Stuyvesant Cove Park, located along the East River on a brownfield site.
Sky Vegetables, in Needham, Mass., is an urban agriculture company that aims to build sustainable, commercial-scale hydroponic farms on urban U.S. rooftops. The company has plans to erect a 440,000-square-foot greenhouse above the former Maxwell Shoe factory in Brockton, Mass.
These developments are a response to a growing consumer desire for fresh, tasty and vitamin-rich locally grown produce like tomatoes (the largest crop grown in greenhouses), bell peppers, lettuce, cucumbers, eggplant and more. That yen has given rise to a movement to integrate food production into the built environment – from community gardens on empty lots on up to rooftop hydroponic greenhouses.
"While hydroponic growing takes more technology than typical growing in soil, it can be very rewarding and a great way to produce safe food, close to the end consumer without taking up a lot of space," said Marilyn Brentlinger, owner of CropKing, a Lodi, Ohio-based maker of hydroponic greenhouses.
Other benefits of growing locally include the opportunity to reduce the energy intensity of our food system, cut transportation costs, minimize vulnerabilities to scourges like drought, salmonella outbreaks and other contamination problems in huge agribusiness operations, and avoid pesticides and other chemicals that have an adverse environmental impact when used in conventional agriculture and food-production processes.
From Geoponics to Hydroponics
Of course, modern urban rooftop garden greenhouses are nothing new. In 1995, New York entrepreneur Eli Zabar, whose markets have been serving New Yorkers for 75 years, began building greenhouses atop his two- and three-story brick buildings on the Upper East Side. He installed greenhouses on an old vinegar factory at 91st and York to grow gourmet salad greens and tomatoes.
However, in his greenhouses, Zabar uses "geoponic" (soil-based) cultivation, which adds weight to rooftops not originally designed to bear excessive loads. Enter today's relatively lightweight rooftop hydroponic greenhouse.
Hydroponics (from the Greek words hydro [water] and ponos [labor]) is a centuries-old method of growing plants using mineral nutrient solutions in water and without soil. Developed for commercial applications in the U.S. in the early 20th century, hydroponics offers some typical advantages over conventional methods — the crops occupy less space and consume less water, and the plants remain healthier longer, grow larger and mature earlier.
In hydroponics, terrestrial plant roots can be placed among inert materials like perlite, gravel, mineral wool or clay pebbles dipped in nutrient solution (aggregate substrate system), or be suspended in a trough containing a nutrient mixture (nutrient film technique).
Aeroponics is a third hydroponic technique that involves the use of sprayers, nebulizers or other devices to create a fine solution mist to deliver nutrients to plant roots. In the aeroponics growing method, oxygen is infused into the nutrient solution, allowing the roots to absorb nutrients faster and more easily, facilitating rapid growth and resulting in superior yields. Aeroponic techniques are used in the cultivation of high-value crops and plant specimens that can offset the high setup and maintenance costs associated with this method of horticulture.
For even finer applications of nutrients in foliar feeding, growers use fog-feed techniques — "fogponics." Fogger misters are an alternative to conventional mist heads, which can waterlog roots with large droplets. The stomata on the undersides of leaves can be more beneficially saturated when enveloped with fog rather than sprayed because droplets stay on surfaces and make a breeding ground for mold, mildew, fungi and other pathogens. Fogging is also favorable for pesticide applications.
The controlled environment of the greenhouse (or growth room) provides the aerial environment for plants, while hydroponics provides the plant root zone environment, according to Gene Giacomelli, director of the Controlled Environment Agriculture (CEA) Program at the University of Arizona.
"Together they make a great pair," Giacomelli told TechNewsWorld. "They are sufficiently developed and understood and have sufficient supporting hardware and software to make many systems in many places economical."
As a result, hydroponics has become the basis for much of the high-tech new wave in urban rooftop greenhouse gardens presently superseding soil-based rooftop operations.
Weighty Potential Problems
Urban rooftop greenhouse structures can also present problems, according to CropKing's Brentlinger.
"They are often difficult to engineer as far as the weight on top of a roof," she told TechNewsWorld. "Most structures have not been designed to accommodate all that extra weight of the greenhouse, water, growing media, equipment and plants that will be part of a rooftop garden."
Brentlinger also said that the logistics involved with getting the supplies and the end product up and down is often so costly that it can be less expensive to find a piece of land just outside of the urban environment or even in a vacant lot inside the city and do the same thing inside a controlled environment, but without the added cost of structural engineering and all of the logistics of having water on a rooftop.
"To say nothing of receiving deliveries of fertilizers and media on the roof and hauling away the old plant matter," she added.
Village Farms Looks at the Risks
With the160 acres of greenhouses in operation, Village Farms of Eatontown, N.J., ranks among the leading vegetable greenhouse producers and suppliers in the North America. The company is a leader in agricultural research and the development of improvements in greenhouse production technology.
"Hydroponic farming is an easy business to understand but very hard to execute for success," said Village Farms CEO Michael DeGiglio. "The barriers for entry, like capital cost for instance, and success, meaning sustainable profit, are often not visible to entry-level investors. The drivers, like most farming operations, are tied to production yield, quality, crop selection and price, but delivering on all four consistently is required. Missing one could take your operating margin to zero. Missing two is a significant loss."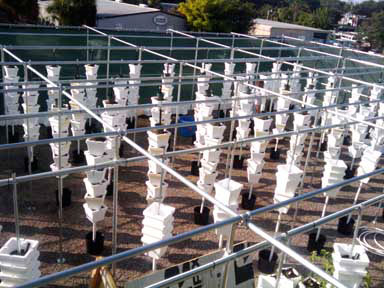 A Verti-Gro installation in Sarasota , Fla.
The Village Farms experience is very large-scale as compared to a rooftop farm, DeGiglio said, so the differing economics make it hard for him to compare.
"Without the proper technical equipment and know-how it will clearly impact the economics," DeGiglio told TechNewsWorld. "Without the economics, assuming we mean cash flow, the longevity of the investment is short lived. I do not believe conventional banks will lend to an operation like this; as greenhouses are special-use assets and on someone's roof, other lending issues come into play. I would assume equity is needed."
If the environmental aspect is not right, especially in an urban environment as opposed to a rural farm environment, the operation would be at risk, he said.
"Just collecting the rain water runoff off the greenhouse and the draining of the fertilizer runoff water would trigger issues tied to permitting and other environmental issues, not to mention how it would impact your market message."
Verti-Gro Has Doubts
Tim Carpenter is the owner of Florida-based Verti-Gro, a specialist in vertical growing and vertical gardening. Verti-Gro installed and operates the hydroponic systems at Walt Disney World's Epcot Center in Florida, producing all of the fresh produce consumed in the park.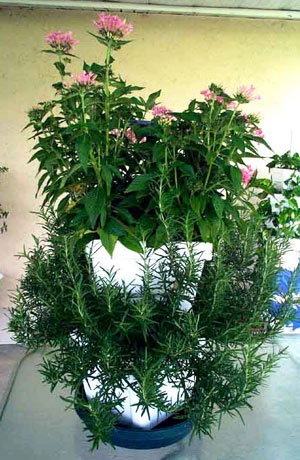 A Verti-Gro PG-1 vertical garden.
"In my opinion it will not be economical to grow plants on rooftops except in very special cases," Carpenter told TechNewsWorld. "I speak from experience since we have done one rooftop hydroponic system in Sarasota, [Fla.]. I am also familiar with another, and both had nightmares dealing with building codes and logistics in general."
In addition to building permits, Carpenter is also concerned about total structure weight loads and weight distribution, building height and wind load increases, the impact of foot traffic and carts on the roofing cover, dissipation of extra rooftop heat during summer months, drainage of excess water, fertilizers and even pesticides, getting materials and supplies up to the rooftop, and sufficient electrical supply to cover what is needed.
For those who do persevere in pursuing rooftop garden, though, Carpenter recommends containerized plants as the most efficient way to grow plants on a rooftop.
"And vertical towers will increase the number of plants that can be grown in a limited-and expensive- space," he said.
Practical Solutions
There may be at least one practical solution to dealing with some of these objections, according to Tim Madden, president of Biodynamicz: parking garages.
Biodynamicz is an Akron, Ohio, renewable energy and sustainable agriculture firm specializing in hydroponic greenhouses. Madden has installed hydroponic greenhouses at local schools and is working on rooftop hydroponic greenhouse projects at universities and restaurants in Northeast Ohio. He is also general contractor for the Cleveland Galleria mall's "Gardens Under Glass" project, an "urban ecovillage" inside the mall that grows vegetables hydroponically on-site.
Because of the issues of weight, drainage and transport of materials to and from rooftops, Madden thinks the top stories of parking decks provide a stable setting for urban rooftop hydroponic greenhouses.
"Parking structures tend to be centrally located, independent buildings, and their floor systems are incredibly strong — made of either reinforced pre-stressed double-tee concrete or post-tensioned cast-in-place concrete," Madden told TechNewsWorld. "They're designed to carry the extremely heavy and shifting loads of moving cars and trucks. They have to bear the physical stresses associated with vehicles for years on end. And they're built to efficiently drain water and precipitation in all seasons."
As for moving materials back and forth to the rooftop, Madden says, "It's a simple enough matter in a parking deck to simply drive delivery trucks up and down the garage's ramps to and from the greenhouse."
Urban Ag Future Looking Up
On the drawing board: vertical "urban ag" towers and sustainable farming skyscrapers.
A Swedish-American company called "Plantagon" has conceived of a massive urban greenhouse with a spherical ramp contained within a geodesic dome.
In his book The Vertical Farm: The World Grows Up, Dickson Despommier of Columbia University advocates all-in-one "eco-towers" that would be actually produce more energy, water (via condensation and purification) and food than their occupants would consume. He wants to construct urban food production centers — vertical farms — in which food would be continuously grown inside tall buildings within the built environment. Produce would be available to city dwellers without the need to transport it thousands of miles from rural farms to city markets. Spoilage would be greatly reduced, since crops would be sold and consumed within moments after harvesting.
"If vertical farming in urban centers becomes the norm, then one anticipated long-term benefit would be the gradual repair of many of the world's damaged ecosystems through the systematic abandonment of farmland," wrote Despommier, the head of Columbia's Department of Environmental Health Sciences.
"Other benefits of vertical farming include the creation of a sustainable urban environment that encourages good health for all who choose to live there, new employment opportunities, fewer abandoned lots and buildings, cleaner air, safe use of municipal liquid waste, and an abundant supply of safe drinking water," he continues.
Beyond urban farming, hydroponic greenhouses can be used in a variety of applications like institutional research labs for biosciences.
"Forcing vegetables, fruits or flowers out of season in cities is a great application for hydroponic greenhouses," Biodynamicz's Madden said. "But we can also make the greenhouses portable and model them on mobile Army surgical hospitals for deployment to emergency areas like New Orleans after the Katrina hurricane or Haiti after its devastating earthquake. A mobile hydroponic greenhouse could realistically have fresh vegetables like lettuce ready for eating within one month of being installed."