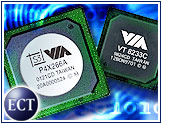 Taiwanese chipmaker VIA has released details of its next-generation C5J Esther processor core, which is intended to bring security in addition to low heat and power consumption to small, low-priced embedded devices.
VIA, which unveiled the new power-efficient processor core at the Embedded Processor Forum in San Jose, California, this week, said the silicon will be manufactured with IBM's 90-nanometer process at Big Blue's foundry in East Fishkill, New York, and optimized for security and e-commerce transactions.
"Our approach to processor design allows small, fanless devices to carry out the most demanding security operations while simultaneously processing today's increasingly sophisticated digital entertainment applications," said Glenn Henry, president of Centaur Technology, a company recently acquired by VIA and producer of the new core.
Analysts on VIA
Analysts indicated the new processor core follows VIA's traditional approach of bringing low-heat, low-cost processing to small devices, such as automobile components or portable DVD players. However, the hardware security enhancements do represent a new level of security that until now has been relegated to higher-end processors.
"We're seeing the enhancement of security in components in the higher end, but they're not quite there yet," Gartner research vice president Martin Reynolds told TechNewsWorld. "They're taking a somewhat leading position by providing it in low-cost cores," he said of VIA's new on-die security.
C5J Built To Bolster
VIA said the new C5J Esther core expands its PadLock Hardware Security Suite to include application-execution protection, support for RSA encryption and secure hash algorithms.
The application-execution protection — or "no-execute protection," NX protection for short — prevents malicious code, such as worms or viruses, from executing and propagating from memory. Meanwhile, the widely used public-key cryptography, which is built in to the core itself, will enhance and quicken e-commerce transactions with silicon support.
VIA said the C5J also will provide two secure hash functions — SHA-1 and SHA-256 — which are used to provide and verify digital signatures.
"These hardware-based building blocks effortlessly carry out operations within security programs and help to improve overall system performance," the company said.
Ready for Randoms
Gartner's Reynolds said that while the security features might not be enabled right away, VIA is paving a path to enhanced security of embedded processors.
"Adding the feature now means that, when they want it, it will be there," Reynolds said.
Mercury Research president Dean McCarron told TechNewsWorld that the security aspects of the new processor core build on VIA's previous designs, calling the C5J "another extension to the product line."
"[The security] is, within the x86 space, unique to [VIA]," McCarron said. "The feature itself is not that big of a deal; it does make supporting security software that needs random numbers a little easier."
Taiwan to New York
McCarron, who also referred to the need for buffer-overflow defense for everything connected to the Internet, said VIA now has joined larger chipmakers, such as Intel and AMD, in providing the no-execute defense.
He also said use of IBM's 90-nanometer manufacturing process will make it easier for VIA to "hit their low power points."
Reynolds, who said VIA is "catching up with the low-end, small-device market," said it is somewhat surprising that VIA, a Taiwan-based chipmaker, would look to a U.S. plant from IBM to produce the new processor cores.
"IBM tends to be an expensive silicon provider," Reynolds said. "Still, they were able to deliver this in a competitive way. VIA isn't going to pay a premium. IBM hit a sweet spot with them where the price-performance is a good exchange."