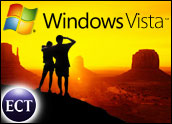 Sure, it will be great to have another alternative to iTunes. Urge — Microsoft's answer to Apple's music store behemoth, unveiled at the Las Vegas Consumer Electronics Show — looks ready to go head-to-head with more than 2 million tracks for purchase and an all-you-can-download subscription option.
The Xbox 360 also promises to entertain gadget junkies for months to come. A newly announced partnership with Direct TV and its British Counterpart, BSkyB, will allow users to download videos to the gaming console, as well as to a Windows Media Center PC.
While Gates and company go all out to intrigue would-be users and reviewers of Microsoft's flashier products, it is easy to overlook the new underpinnings the software giant has put in place to support and integrate these entertainment applications. The new Viiv entertainment chip manufacturered by Intel, for instance, will be key to these video-based technologies.
New Search Capabilities
Even more importantly, there is Vista, Microsoft's forthcoming Windows operating system. Among its advantages, Vista provides far greater search capabilities through its integrated operating system components.
"It is a very interesting development from a content point of view, because Microsoft is embedding a lot of the features directly into the OS instead of plastering them on top," Guy Creese, an analyst with Ballardvale Research, told TechNewsWorld.
"It provides a stronger foundation for what people want to do with their PCs today and will make search a completely different experience," he said.
Taken as a whole, Vista will allow users to think of data and how to organize it in completely new terms, according to Creese.
"Consider the example of a developer wanting to figure out the best location for a new shopping center," he suggested. "It becomes much easier to create a map with the appropriate value and demographics information using Vista." In short, instead of the user gathering the relevant data, the OS does it. "These are truly intelligent applications."
User Interface
The new interface also supports the multi-application environment, although it may be unduly complicated for some users.
"A lot of people are enthralled with the glass see-through look of the windows, and it is great when you have only a few open," Creese explained, "but if you have, say, eight windows open, it can be like looking at data through eight panes of glass."
To each his own, though. "It is expected to be customizable, so people can tailor it how they like," he said.