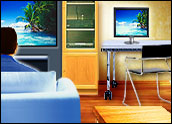 Vudu, a California company that will sell or rent movies to customers with high-speed Internet access, began selling its US$399 units Thursday and expects the downloads will begin in about three weeks.
The company has agreements with major and independent film distributors and can offer its customers instant access to 5,000 movies at about the same time the studios release them on DVD or high-definition disc. The films can either be rented or purchased from Vudu and stored in the set-top box.
There are no subscription or activation fees. One-time rentals — which must be watched within 30 days — will cost between 99 US cents and $3.99, while movies can be purchased for $4.99 to $19.99, depending on the age of the film, said Vudu.
High-Def Without New Hardware
Prospective customers must have high-speed Internet access to use Vudu. The company's Web site allows people to test their broadband speed to determine if they qualify, with a speed of 3 MB per second recommended for those who want instant access.
The system supports high-definition video, and people should keep that in mind when analyzing the price, said Patrick Cosson, Vudu's vice-president of sales and marketing. Instead of dishing out comparable, or more, money for a Blu-ray Disc or HD-DVD player, people can buy a Vudu box and get not only the ability to play high-def movies but access to the movies as well, he said.
"At $400 we are comparable (to high-definition player prices)," Cosson told TechNewsWorld. "We will be able to play HD content without you having to change your hardware."
Breaking Old Habits
Vudu is better than cable and other pay-per-view or digital download offerings, including TiVo and Apple TV, Cosson said, largely because of its large catalog of available movies and the simplicity involved in using Vudu.
In fact, the company's biggest challenge is convincing people to break their current movie rental or purchase habits, he continued.
"Our core competitor is existing behavior," he said, explaining that most people are currently spending their home movie money at mail-order outlets such as Netflix, at the local video stores such as Blockbuster or on video-on-demand services from their cable or satellite TV providers.
"We've got to make sure we can compete aggressively with these three groups," said Cosson. "Most Americans have multiple sources of video in their home. I'm not asking people to replace anything. We just want to be slotted in there. Today, Americans are not watching what they want to watch. They are watching what's available to watch."
Distributed Networking With a Safety Net
Cosson said the Vudu system has been in a testing phase for about six months with about 300 beta testers. A few minor user-interface bugs were discovered and fixed.
The system delivers data using a mixture of peer-to-peer networking and central servers, said Cosson. The peer-to-peer aspect helps speed content delivery, while the synchronization with a central server ensures that the download will take place even if a local Vudu box containing the information is unavailable, said Cosson.
"In a sense, we are using a distributed network approach, but it's fundamentally different in many ways," he explained. "There is always a central server for backup so there is no stuttering, no pixelation and no buffering when you are watching a movie. If it can pull it from a box near you, great. If not, it can get it from a central server."
On-Demand in Demand
Whether Vudu will emerge a winner has yet to be seen, but Jan Saxton, film entertainment analyst at Adams Media Research, is convinced there is a market for downloadable films.
"The market for online movies will take off when somebody hits that sweet spot with a box that's easy to connect and works with everybody's system and can pull that content from the Internet to the TV," Saxton told TechNewsWorld.
Two things are needed for that to happen, she said: "You need a box that anybody can buy, go home with, plug in and have work. The other piece is licensing access to the premium movie content. There are complicated issues of windowing and pre-existing licensing deals that can make it difficult for new players in that space to get the licensing."
While Vudu seems to have those bases covered, Saxton said only time will tell.