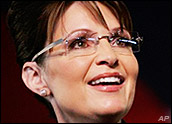 A mini-drama of particular interest to bloggers unfolded in the midst of the hoopla surrounding Alaska Governor Sarah Palin's resignation earlier this month. Having become the standard bearer for the Republican party's ultra-conservative wing, Palin never really left the media spotlight following her unsuccessful run for the vice-presidency. Her abrupt decision to resign created shock waves.
A rumor had been circulating in the blogosphere — and subsequently was reported in a few media outlets — that a federal investigation was gearing up or possibly even under way into whether Palin had shifted construction materials meant for the Wasilla Sports Complex to build her house.
Some seized upon the supposed investigation as an explanation for her sudden decision to exit the governor's office.
The rumor, however, was false. In fact, the FBI took the unusual step of announcing that Palin was under no such investigation.
I'll Blow Your Blog Down
That didn't stop Palin's attorney from threatening to bring defamation charges against anyone who had repeated the allegation. Singled out were the The Huffington Post, The Washington Post — and Alaskan blogger and radio host Shannyn Moore.
Moore, for her part, was not cowed — and rightly so. She had the law on her side. It is not illegal to publicize rumors as long as statements are couched with appropriate qualifiers such as "alleged," "reportedly," etc., or clearly are written as opinions. For instance, you can say "I think so-and-so is a crook." What you can't say is "So-and-so is a crook because he is embezzling funds from his company" — unless, of course, it's true. The law allows even greater latitude when it comes to comments made about public figures such as Palin.
Still, ever since the birth of Web 2.0, questions about what it is permissible to say and do online continue to mount as individuals and companies sue or threaten legal action in an effort to tamp down negative scuttlebutt, even if they don't stand a chance to win.
Defamation suits against bloggers are not unusual, said David Burgert, partner with Porter & Hedges, who told the E-Commerce Times that his firm has handled several such cases, particularly against investment blogs that have discussed publicly traded companies.
Rules of the Road
There are limits to what the law permits, however. Bloggers don't receive a Get Out of Jail Free card just by strategically modifying any outlandish claim with words such as "maybe" or "I've heard."
Indeed, high profile dustups like the Palin-Moore dispute are useful to illustrate what the rules of the road are for bloggers who may be on the receiving end of such a threat.
The first rule is that you may be held liable if you maliciously or carelessly state a falsehood that is damaging.
Bloggers are held to the same standard as anyone else in the defamation context, Burgert said.
Several years ago, someone posted a number of false, defamatory statements about the CFO of his company's client on the Yahoo chat board for investors, he recalled. The poster falsely asserted that the CFO had formerly been indicted for bank fraud.
"This set off a firestorm of discussion on the board," said Burgert, "and the stock price dropped for a few days, and the client received a number of press inquiries. We filed a 'John Doe' suit against the poster here in Houston, and subpoenaed Yahoo to give us records showing the true identity of the poster — who had used a false name for his postings."
The firm got the name and served the poster. He defaulted, and Burgert's client got a US$1 million judgment against him.
"He, of course, had nothing for us to recover," related Burgert, "but he stopped posting, and we publicized the judgment, which significantly reduced the defamatory postings."
The most difficult part of the case, he said, was getting the real name of the poster and getting him served.
Still, outcomes such as this are the exception.
High Standard
In general, most defamation cases brought against bloggers have not been successful, because the standard of libel is very difficult to meet, Bart Lazar, an intellectual property attorney at Seyfarth Shaw, told the E-Commerce Times.
Essentially, the law requires that it must be proved that the person knowingly stated a falsehood.
"In fact, the standard of libel is so hard to meet here that something called libel tourism has started, where lawsuits are brought overseas for blog/Internet libel cases," Lazar said. "In June, the House passed the Free Speech Protection Act of 2008, a law to stop such libel tourism."
Public Figures
What is likely of most importance to bloggers is this: While the same legal standards for libel apply to bloggers and traditional news reporters, it would be even more difficult for a public figure to prevail in a libel suit against an amateur blogger than against a traditional news organization, according to Charles Johnson, a litigation attorney with Robinson, Bradshaw & Hinson.
Public figures such as Sarah Palin must establish that the libeling party published a false and damaging statement with actual malice — either with knowledge that the statement was false or with a reckless disregard for the truth, Johnson told the E-Commerce Times.
"It will be considerably more difficult for a public figure to show that an amateur blogger acted with reckless disregard than, say, a New York Times reporter," he said. "It will also be quite difficult for her to show that she suffered economic injury due to the false postings of an amateur blogger."
The difficulty of proving actual malice and damages, coupled with the fear of looking politically weak, means politicians almost never bring libel suits, Johnson said.
"Indeed, one would expect a politician to have a thicker skin than this," he remarked.