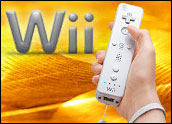 Playing Electronic Art's (EA) line of sporting games just became a little easier for Wii console owners. The game maker has unwrapped its new EA Sports Family Play system, which will make it "easier for players of all ages and skill level to play its most popular EA Sports games" on the Wii, according to the company. The new style of game play will be available with the release of Wii versions of "Madden NFL '08," NBA Live '08," and "FIFA Soccer '08."
"EA Sports Family Play on the Wii creates an incredibly accessible and user-friendly experience that the whole family will enjoy," said Dave McCarthy, executive producer for the three games developed at EA Canada. "While many fans love to control every piece of the action, novice players can have just as much fun jumping in to throw a touchdown pass, nail a three pointer or take a shot on goal. Family Play brings together fans of all ages to enjoy playing EA Sports games, and even lets them ease into Advanced play if they desire."
Just for Fun
With EA's new Family Play (FP) functionality, players can choose the style of game play most suitable to their skill level. Control freaks opting for Advanced play can have complete control of all facets of the game through intuitive gestures using the Wii remote in one hand and the accompanying Nunchuck in the other.
For those interested in a more relaxed style of play, FP offers a simplified control system for one hand using only the Wii remote. Novice players no longer have to stress about remembering the countless button combinations necessary in the Advanced version. Instead, using the Wii remote, they can concentrate on key actions including shooting, passing, snapping and throwing the ball, and allow the console to control everything else.
"It's like having an invisible helper on your team," EA said. The less technical level will allow newbies to build their gaming confidence and eventually move up to the more adept control level, the company said. To play the Advanced style, all gamers have to do is plug in the Nunchuck controller.
The Casual Gamer
EA's two-level game play is designed to appeal to casual gamers, according to industry analysts and broaden the games base to include the whole family. With FP, EA has set out to attract more casual gamers, Michael Pachter, a Wedbush Morgan analyst, told TechNewsWorld.
"EA offers real players and real teams," he pointed out, but with FP, Pachter said, he expects game play to be quite similar to the "Wii Sports" game included with the gaming console at the time of purchase.
The new technology is "definitely part of the 'Wii Effect,'" added Michael Cai, a Parks Associates analyst.
If Nintendo expects to maintain its current level of success over the PlayStation 3, then the company "needs to make sure key developers will leverage its innovative design to keep its success sustainable," Cai noted. "Wii is the perfect platform for family gaming, which is a growing trend. More than half of teenage gamers play games with their parents.
"Sports games are a good genre for family play but they have become fairly challenging for casual players. Remembering 30 or even more combination moves is not easy," he added. "Family Play will help more sports games become as popular as 'Wii Sports.' The key is to provide options to different gamer segments."
Nintendo, Pachter noted, needs third-party software in order to maintain its current lead in the market. "If 'mainstream' games aren't produced by third parties for the Wii, that platform will fall behind the others in term of games.
"So this move by EA is a positive sign," he concluded.