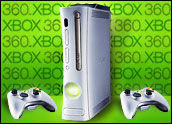 Conceding many Xbox 360 gaming consoles were built with a flaw that resulted in system crashes, Microsoft is tripling the system's warranty, upgrading its design and reimbursing those who paid for repairs.
The initiative will cost up to US$1.15 billion, the company said.
A properly-running Xbox 360 displays a glowing green circle of lights. However, when one experiences the dreaded hardware failure, three of the ring lights flash red. The problem is so common, Xbox aficionados have a nickname for it: the Red Ring of Death (RROD).
"Any Xbox 360 customer who experiences a general hardware failure indicated by three flashing red lights will now be covered by a three year warranty from date of purchase," said Microsoft. The prior warranty covered the consoles for only one year.
Improvements Being Made
While Microsoft did not detail how many of the units experienced the RROD failure, it said there were an "unacceptable number of repairs" being performed on the units. The company said it engaged in "extensive investigations" into the situation in an effort to determine why the consoles were crashing.
"Having identified a number of factors which can cause general hardware failures indicated by three red flashing lights on the console, Microsoft has made improvements to the console and is enhancing its Xbox 360 warranty policy for existing and new customers," Microsoft said.
Under the new policy, Microsoft — which insists it "stands behind its products and is taking responsibility" — to repair or replace broken units, will repair or replace, within three years of purchase, any Xbox 360 that stops working and displays the RROD. The repairs will be free and will include shipping costs, said Microsoft.
'Investment' in Customers
"The majority of Xbox 360 owners are having a great experience with their console and have from day one," said Microsoft Entertainment and Devices Division President Robbie Bach. "But this problem has caused frustration for some of our customers and for that, we sincerely apologize."
The costly new repair or replace effort is being viewed by the company as "an investment" in its customers, he said.
Microsoft's effort is unusual and welcome, Directions on Microsoft Lead Analyst Matt Rosoff told TechNewsWorld. "I think it's good that they're doing the right thing," he said. There are certainly products out there that are comparatively priced, such as the iPod, where if it breaks one day after the one-year warranty, the company says, 'Too bad.'"
Of course, Microsoft isn't completely altruistic. "Microsoft needs to keep selling games, so they want to have working consoles out there," noted Rosoff. "But it was really the right thing to do and they should be commended."
Billion Dollar Apology
The Microsoft mea culpa didn't end with Bach's public "my bad." Peter Moore, Microsoft's vice president for interactive entertainment in the Entertainment and Devices Division, published a seemingly heart-felt apology on the Xbox.com Web site.
"You've spoken, and we've heard you," wrote Moore. "Good service and a good customer experience are areas of the business that we care deeply about. And frankly, we've not been doing a good enough job … If we have let any of you down in the experience you have had with your Xbox 360, we sincerely apologize."
The change, Moore said, "will take a few days to roll out globally" and he asked for customers to be patient.
The mystery that remains is what caused the Xbox 360 problems, Enderle Group Principal Analyst Rob Enderle. It could have been a batch of bad components, a problem with the factory or any number of things.
"Nobody knows the cause, although the product had some heating issues," he told TechNewsWorld. "In any case, Microsoft is stepping up and it's pretty aggressive. I'm not aware of any lawsuits or anything forcing them down this path. It's not often — in the car and technology industries — we get a vendor that completely does a voluntary recall, but it's the right thing to do. You don't want people thinking you build a crummy product."