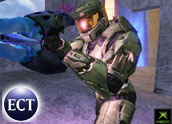 The hit video game "Halo 3" has raked in more than US$300 million and drawn some 3 million gamers to play online on Xbox Live, according to Microsoft. However, the part about "Halo" that really has the Web rumor mill working overtime is whether or not Microsoft and Bungie Studios, the developer behind the game, will part ways mere weeks — or days — after the biggest launch in video game history.
If true, the transition from a card-carrying member of Microsoft Game Studios an to independent entity could have a significant impact not only on Bungie but on the video game industry as a whole.
Industry Gossip
8bitjoystick.com is widely credited as the originator of the rumor, which the site said is based on an e-mail from a source inside Bungie. Microsoft's decision to return to Bungie the right to determine its own destiny is in appreciation of the success of the "Halo" series success, according to the site. The "Halo" trilogy has become the most popular exclusive game title in history and has earned Microsoft hundreds of millions of dollars in software and hardware sales.
Microsoft would reportedly retain all its rights to the "Halo" franchise but will wait until after it submits its next quarterly report to announce the change in Bungie's status. If Microsoft indeed cuts Bungie lose, it could be freed up from producing titles for just a single console while at the same time feeding Microsoft's hunger for more "Halo"-related products.
Since the rumors began circulating Monday, Microsoft has consistently told reporters that it cannot comment on or verify the veracity of 8BitJoyStick's claims.
A Profitable Partnership
Bungie melded with the Microsoft Game Division (which later became Microsoft Game Studios) in June of 2000. At the time, Bungie, which had started out as a Macintosh game developer, had seen success with its "Marathon" and "Myth" series. Just one year earlier, Bungie had announced its next product, "Halo."
The first title debuted on the Xbox in November 2001 and sold 1 million units in its first four months on store shelves. To date, the game has produced estimated revenues of some $170 million.
The good times continued with the launch of "Halo 2." That title brought in more than 1.5 million pre-orders before its November 2004 launch. It went on to earn legendary status and broke entertainment industry records when gamers in the U.S. and Canada snapped up 2.4 million copies in its first 24 hours, bringing in $125 million.
As a result, "Halo 2" ranks among the top five best-selling games for first-day sales in history. In the three years since it hit store shelves, as of mid-May 2007, it remained the most-played game on Microsoft's Xbox Live online gaming network, with just under 1 billion hours of online gameplay logged in by fans.
"Halo 3," which hit store shelves Sept. 24, was another blockbuster, shattering the revenue bar set by debuts of movies like "Spider-Man 3" and even the latest Harry Potter book, Harry Potter and the Deathly Hallows, with one-day sales totaling $170 million, according to Microsoft. The game, available in 37 countries and 17 languages, sold more than 1.7 million units in pre-orders alone.
With stats like that, if the rumor proves true, it makes little sense from Microsoft's perspective, Brian O'Rourke, an analyst at InStat, told TechNewsWorld.
"'Halo' is the single most popular franchise in the video game industry," he explained. "It is behind a good deal of the success that the Xbox and Xbox 360 have had to date.
"Cutting Bungie loose would mean we would see 'Halo' on all three current-generation consoles in fairly short order, and 'Halo' would become the 'Madden Football' of the first-person shooter genre, in terms of popularity."
Yin and Yang
Regardless of the behind-the-scenes maneuvers that may now be taking place, if the split does come to pass, it would be an amicable one, said Michael Pachter, a WedBush Morgan analyst.
"I presume that they are friendly," he told TechNewsWorld. "If so, it's likely that Microsoft will negotiate a 'first look' at future games, and may get a limited exclusive — for a fee."
The separation is not fatal, Pachter continued, adding Bungie will likely take the lead in developing future "Halo" installments.
"Most likely, the studio would work on several projects, much like Epic worked on 'Gears of War' — another Microsoft exclusive — and 'Unreal Tournament' — a multiplatform [title]."
The breakup could be the result of Microsoft's relatively flat stock prices as of late, Rob Enderle, principal analyst at Enderle Group, told TechNewsWorld. He agreed that there could be something to the speculation.
"Microsoft tends to manage its properties financially, and it may view the need to have them onboard is not as great as the financial benefit.
"Microsoft would be free to bid on exclusives like it would with any other shop. It would just allow Bungie to grow outside the Xbox. It would make Bungie more valuable as an asset and allow Microsoft to maximize the return on investment. Microsoft is having a problem with [that] right now, and this allows them to create some excitement under the stock."
Seeing Other Platforms
For Bungie, the benefit would be the ability to design games for multiple platforms.
"That increases their potential revenue from games by millions of dollars. So there is a financial reason for Bungie to want to separate," Enderle pointed out. "Doing exclusives once in a while often comes with incentives from the console makers. But having to do exclusives all the time does limit you in terms of games on other consoles. So, things like 'Halo' would always be exclusive to Microsoft, but there would be other things that would not be exclusive and they can expand other things."
The downside would be that the company would exist in a riskier world without being able to avail itself of the staunch backing of Microsoft in the event it laid an egg with a particular title.
Enderle said he expects the industry trend toward consolidation of game software studios to continue, with a slight difference. Instead of corporations buying up independent studios, studios with megahits under their belts — studios like Bungie — will buy up other firms.
"Bungie could become much more powerful out from under the Microsoft umbrella," he noted. "If Bungie can break out and do some acquisitions itself, it would become a much stronger power this way. Microsoft would still retain a significant controlling interest in [Bungie], and then that could be the best for both entities."