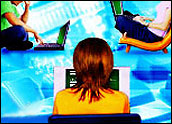 Microsoft has upgraded Windows Live, its group of Web 2.0-style online services, with a new set of social networking apps. Many of these new applications are upgraded versions of the services that Windows Live has been extolling since its inception, including photo sharing, e-mail and instant messaging.
The new package also offers integration with multiple third-party sites, as well as tools to leverage users' own digital content.
Microsoft did not respond to the E-Commerce Times' request for comment in time for publication.
Focus on Collaboration
The third-party integration is one of the key changes in this upgrade. "The fact that it has involved so many new partners represents an evolution for Microsoft with Windows Live," Greg Sterling of Sterling Market Intelligence told the E-Commerce Times.
Microsoft has integrated Flickr, LinkedIn, Pandora Media, Photobucket, Twitter, WordPress and Yelp into Windows Live through a new profile and a feed called "What's New." As users share photos or update their profiles on these third-party sites, for example, their actions are automatically published to their Windows Live network.
Other changes to the application:
Windows Live Messenger now includes more personalization, including the What's New feed with updates from contacts across the Web, drag-and-drop photo sharing in the conversation window, a favorites list to designate the most important contacts, and group IM (instant messaging) that supports simultaneous chat for up to 20 people.
Windows Live Hotmail has beefed up its spam filtering. Upcoming changes include functionality to bring multiple e-mail accounts together and to put multiple e-mail addresses on almost any device; increased storage; and a revamped calendar that makes it easier to share calendars with others, subscribe to multiple calendars and use a calendar with Microsoft Outlook.
Windows Live Groups now offers a shared calendar, shared storage, a shared e-mail address and shared instant messaging.
Online storage has increased from 5 GB to 25 GB.
This version of Windows Live will begin rolling out over the coming weeks and will be made available in 54 countries and 48 languages by early 2009.
Microsoft is also ramping up its distribution channels for this product through alliances with HP and China Telecom. HP will distribute Windows Live Photo Gallery with its consumer printers, including Photosmart and Deskjet lines, starting next year. China Telecom will be providing a cobranded version of the new Windows Live Messenger to its Internet service subscribers on PCs and through mobile devices in the near future.
Windows Live vs. Facebook vs. Google
Clearly, collaborative applications and strategies are Microsoft's focus in this version. However, it may be mistaken to assume that Microsoft is seeking to take on any of the best-of-breed providers of such technologies, Charles King, principal of Pund-IT, told the E-Commerce Times.
"Actually, Windows Live is more competitive now than it was before. This new offering has a more Facebook, MySpace-like look and feel to it, which is smart for any company to have," he said.
However the availability of these features on Windows Live is likely more a reflection of market reality than an indication that Microsoft wants to become the king of all networking spaces, he said. People have come to expect those kind of capabilities as a part of the online experience.
"The truth is these communities tend to be somewhat fickle anyway," King continued. "I don't know if anyone has gotten a handle on what makes people stick with one site over another."
In other words, this is not a play for Google or Facebook users, in his view. "Rather, Microsoft is really going after the whole package — even as the players within this community shift in popularity. It is trying to establish a community that embraces discrete users of all these sites."