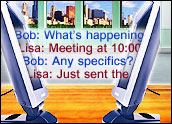 Consumers who love to chat will have more people to talk to now that Yahoo and Microsoft have bridged their instant messaging services.
On Thursday, the companies began limited public beta testing of interoperability between Yahoo Messenger with Voice and Windows Live Messenger, an updated version of MSN Messenger.
The companies cannot release information about the number of beta testers, Yahoo spokesperson Clive Hobson told TechNewsWorld, but "ultimately 350 million users will have access to it over the next several months," he said. "We're moving people forward as quickly as possible."
Anyone, Anytime, Anywhere
Those who joined the limited public beta program also will be among the first to see their friends' online presence, view personal status messages, share select emoticons, view offline messages and add new contacts from either service at no cost.
"This [partnership] gives our customers tremendous control, convenience and freedom in their Web communication experiences with Windows Live," said Blake Irving, corporate vice president, Windows Live Platform at Microsoft. "We're proud to deliver this latest advancement in IM services that empower people to communicate with virtually whomever they want, wherever they want and whenever they want."
In addition to testing English and Spanish versions in the United States, the companies are trying out the new beta program in Argentina, Australia, Brazil, Canada (English and French), China, France, Germany, Hong Kong, India, Italy, Korea, Mexico, the Netherlands, Singapore, Spain, Taiwan, Turkey and the United Kingdom.
Benefits for Consumers, Companies
Consumers were the driving force behind the partnership, according to Hobson. "It was the most common request among our IM users," he said. "The biggest benefit is satisfying those requests."
Both companies stand to gain from this new relationship, Joe Wilcox, senior analyst at JupiterResearch, told TechNewsWorld. It will not only allow consumers to cross conversations and run one less IM client, but also open the door for crossing advertising, he said.
"If they're thinking about their future, the integration is just the first step to other things. Imagine they can access any of the properties regardless of the IM platform," he suggested. "You're expanding the reach of your advertising campaign. I'd be thinking about how to extend the system to Voice over IP [and] video."
Getting Customers to Switch
The market potential is substantial, with 204 million people using Microsoft IM services and 78 million using Yahoo as of May 2006, according to global figures provided by comScore Media Metrix. Comparatively, AOL's AIM had 34 million users.
AOL should stay alert, cautions Teney Takahashi, senior market analyst at the Radicati Group.
"Many users have several IM clients open at the same time to communicate with friends on different networks. By combining MSN and Yahoo contacts, it will be much more convenient to talk with friends on those networks, rather than on AIM or Google Talk," Takahashi told TechNewsWorld.
"This makes MSN and Yahoo a common ground for a significant percentage of IM users, and we expect that this will drive customers away from more isolated IM services," he added.