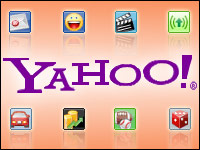 Yahoo last week unfurled two new apps that should help strengthen its mobile bona fides: the Yahoo Weather App for iPhone, iPod and iPod touch; and Yahoo Mail Apps for iPad and Android tablets.
The new releases are in keeping with CEO Marissa Mayer's intention to pare Yahoo's extensive mobile portfolio to a handful of strong, user-friendly and productivity-oriented apps. Both are streamlined, and both deliver on Mayer's promise.
Photo-Intensive Weather App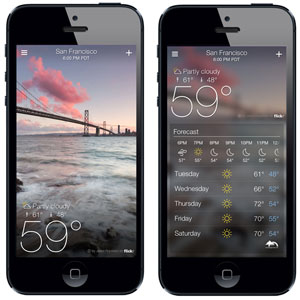 (click to enlarge)
In the case of the weather app, Yahoo has built much more than a utilitarian tool to let users know if rain is expected.
It features beautiful images from Yahoo's Flickr community to showcase local conditions. "Instead of reading the weather, you can see the weather," the company suggests.
Yahoo's goal is to build an eye-catching collection of weather photos from around the world, taken at all hours of the day and night. Toward that end, it is inviting users to submit photos to Flickr. Selected images will be seen by tens of millions of users, the company said.
The app also offers precipitation, wind and pressure information, as well as a radar map. It is launching internationally in 30 languages.
Email Designed for the Tablet
The email apps are also designed with a strong visual orientation, although in this case the goal is simplicity — the elimination of noise to keep the focus on the email itself.
Email messages render full-screen, and there are no buttons, tabs or folders to distract. Users just flip through the messages. Yahoo has made it easier for users to group messages by sender and to delete messages they don't want.
2 Important Trends
Yahoo is playing into two important design trends in social and mobile with these apps — storytelling and curation, said Tom Edwards, VP of digital strategy at The Marketing Arm.
"Yahoo is pulling from these trends and previous user behavior to try to rethink what's possible with their mail and weather apps," he told TechNewsWorld.
"By incorporating a full-screen visual approach to email similar to Flipboard, and taking [into account] consumer behavior — such as the time associated with accessing email on tablets, [say] evenings and weekends — Yahoo is trying to create an engaging experience beyond simple utility," Edwards said.
The curation of regional images is particularly compelling, he noted. "By incorporating curated visual elements into the experience, Yahoo is creating a visually aesthetic experience that creates a relevant connection between the user and their location."
Email: Not Dead Yet
The email app also reflects the enduring love affair consumers have with email, despite the encroachment of social media.
"Email is a core part of many business and consumer functions, and Yahoo has realized this with its new Mail app," Justin Pirie, cloud strategist at Mimecast, told TechNewsWorld.
"Consumers want in-boxes to be simpler and smarter — clean design, intuitive navigation, and easy usability are important characteristics for the next generation of in-boxes," he said. With users spending an average of four hours per day on email and 86 percent relying on their in-box as a search tool, consumers want their in-boxes to do the thinking for them."
Email is a notoriously sticky application — once you have shifted all your contacts to an address, you are loath to do it again on a whim.
In this case, the design may be enough to tempt some users into switching — or at least using Yahoo's version as a secondary address.
"When it comes to utility apps such as email," said Edwards, "anything that can add additional context and relevance to the user experience — while not introducing additional barriers into the experience — [is] key to compelling a user to potentially make the switch."